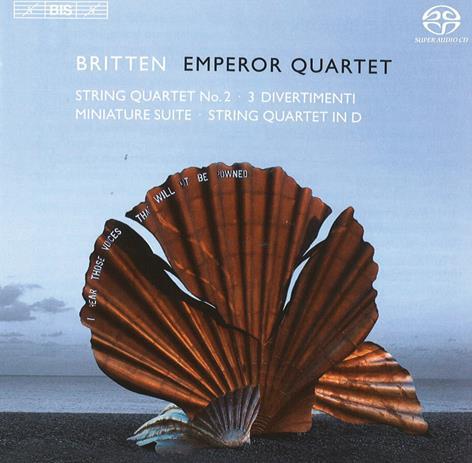 The Strad Issue: January 2010
Musicians: Emperor Quartet
Composer: Britten
The Emperor Quartet gives a well-paced and deeply thought account of the second of Britten's numbered quartets. Maybe the first movement lacks the last degree of tension in its more dramatic moments, but the 'Allegro calmo' indication is taken to heart in a spacious opening and fade-away close. There's certainly no lack of bite in the central Vivace, which is played with visceral intensity. And the expansive progress of the concluding Chacony – Britten's tribute to Purcell – confirms this as one of the most successful recordings of the work on disc.
The rest of the disc features juvenilia and student works, of which only the Three Divertimenti from 1936 have had any general exposure. We also have the D major Quartet written in 1931 (and revised by the composer late in life) and the first recording of a delightful Miniature Suite composed when Britten was just 15 and paying debt to his Classical and Romantic models from Haydn to Elgar (the opening movement, 'Novelette', is an unmistakable rip-off of the 'W.N.' portrait of the Enigma Variations). The Emperor's playing throughout these works is vivid and resourceful, and the Potten Hall recording has the balance and depth to project it all faithfully.



Matthew Rye