The 1700 instrument, belonging to London violinist Carol Slater, was stolen from a Gatwick Express train at the end of March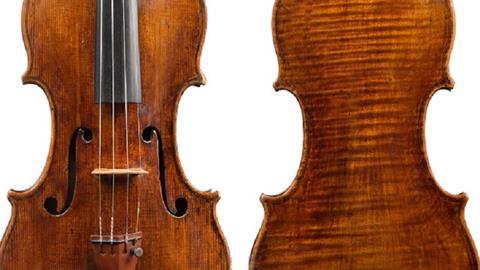 British Transport Police (BTP) have recovered a 300-year-old Matteo Goffriller violin, which was stolen from the overhead luggage rack of a London Gatwick Express train on 24 March this year. The 1700 instrument belongs to London violinist Carol Slater and was a gift from her father over 40 years ago.
Slater and her husband, the violist Ian Jewell, realised the instrument was missing when they disembarked from the 6.30pm train from London Victoria station to catch a flight. Despite alerting staff, the violin had disappeared by the time a search was carried out at the next station, Hayward's Heath.
Following an investigation, police have now located the instrument 'at a house in the North West area of London'. According to a BTP statement, the instrument 'was slightly damaged but has been safely returned to the owner'.
'We originally appealed for information regarding the incident in March and are no longer looking to identify the woman shown in the CCTV images,' reads the statement.