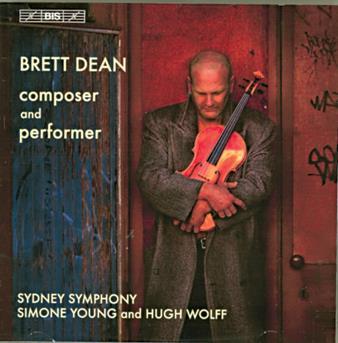 The Strad Issue: January 2008
Musicians: Brett Dean (viola/conductor) Sydney Symphony, Simone Young (conductor)* Hugh Wolff (conductor)†
Composer: Brett Dean
It must take a lot of courage to leave one of the world's most prestigious (and best paid) orchestras to try to make a living as a composer. In Brett Dean's case the gamble has paid off. Even before he left the Berlin Philharmonic in 2000, his composing career had taken off in a remarkable way. If the unaccompanied viola piece Intimate decisions (1996) seems to allude to that turn in Dean's life, the immediate inspiration for it was – as very often with him – a painting by his wife Heather Betts. Dean's performance, recorded in 1997, is of amazing virtuosity, with the thematic harmonics perfectly in place and an amazing range of tone-colours.
Other pieces with extra-musical sources are Twelve Angry Men (1996), written for the Berlin Phil's twelve cellists and based on the Sidney Lumet movie, and Komarov's Fall (2006), an orchestral showpiece commissioned to accompany Holst's The Planets. Both receive exemplary performances, with Dean drawing infinitely subtle playing from the Sydney Symphony's cellists in the former, and Hugh Wolff achieving a terrifying climax in the latter.
The Viola Concerto (2006), the only piece of 'absolute' music here, is no less dramatic, with a hauntingly beautiful introduction, a dizzyingly virtuosic second movement and a conciliatory finale. The composer's performance is again magisterial, and Simone Young makes the most of the score's kaleidoscopic orchestral colours. The CD, in vivid sound, is internationally available on BIS, but its Australian incarnation, on the Sydney Symphony label (SSO 200702), has the more attractive presentation (even including a reproduction of Betts's painting).
Carlos María Solare