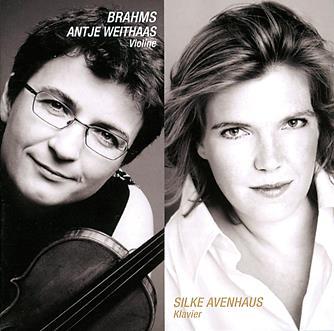 The Strad Issue: January 2008
Musicians: Antje Weithaas (violin) Silke Avenhaus (piano)
Composer: Brahms
Antje Weithaas and Silke Avenhaus strike a finely judged balance between rhetoric and lyricism from the very opening of the G major Sonata and subordinate their technical prowess to the music throughout. Their expressive freedom in the distended transition to the first movement's recapitulation is particularly effective, but perhaps the highlights of their reading are the same movement's expansive coda; that inward passage towards the end of the Adagio where Weithaas traces a rapt, fragile thread of tone; Avenhaus's wonderfully light raindrop effects in the finale; and the recall in the finale of the Adagio's principal melody.
These players bring a wide range of colour and a refined lyricism to their account of the A major Sonata, phrasing the first movement with an unforced naturalness that is very persuasive. Their interplay throughout the contrasts of the central movement seems instinctive and they give to the finale a restrained, wistful quality that suits it well.
One can hear more unbuttoned accounts of the D minor Sonata, but Weithaas and Avenhaus plumb its depths and contrasts with resolute hands. Their realisation of the emotional pullings and tuggings of the first movement is transfixing and Weithaas's warm tone and poetic lyricism in the Adagio are genuinely moving. Their third movement demonstrates warmth and finesse in equal measure and their finale, along with their Scherzo WoO2, has all the requisite muscularity and passion.
The balance has largely been well judged, only occasionally favouring the piano, and the recording has an intimate ambience and attractive bloom.
ROBIN STOWELL