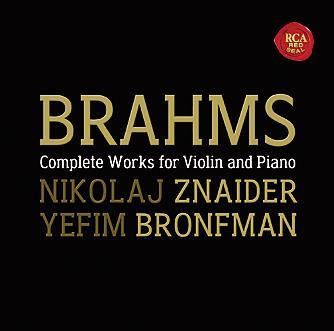 The Strad Issue: January 2007
Musicians: Nikolaj Znaider (violin) Yefim Bronfman (piano)
Composer: Brahms
These beautiful performances, excellently recorded, make up a very satisfying recital, as the three sonatas have a cumulative effect and the players seem to become more assured, with Brahms and with each other, as they proceed.
Of course I have no way of knowing in which order the programme was recorded, but I did get the feeling in the G major Sonata that I was listening to two first-rate players with good ideas rather than a real duo with a fully developed joint interpretation.
Compare Busch and Serkin (APR), especially the newly released 1936 live performance, or Suk and Katchen (Decca), or Dumay and Pires (DG), or even the rather revisionist disc by Pamela Frank and Peter Serkin (Decca), to hear minds in total accord.
I immediately felt more at ease in the A major Sonata, as the players seemed to have a firmer idea of where they were going; and in the dramatic, more varied D minor Sonata I felt that all four movements were well shaped and splendidly characterised.
Throughout the disc, Nikolaj Znaider plays with a beguiling range of tones and colours and a beautiful musical line. Bronfman, who seems to go from strength to strength, produces the right Brahmsian roundness of tone. Tempos are entirely apt.
The Scherzo from the 'FAE' Sonata makes a fine encore and leaves me feeling that I would like to hear more from this duo – perhaps some Beethoven. They already do enough here to put Repin and Berezovsky (Warner) on their mettle.
TULLY POTTER