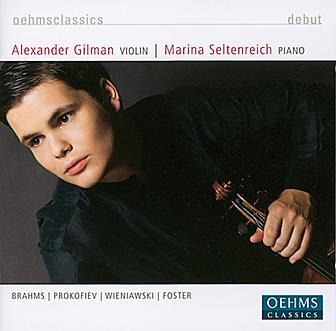 The Strad Issue: January 2007
Musicians: Alexander Gilman (violin) Marina Seltenreich (piano)
Composer: Brahms, Prokofiev, Wieniawski, Foster
The 25-year-old German violinist Alexander Gilman won the loan of the 1684 'Croall' Stradivari and the chance to make this debut CD as victor in the 2006 WestLB Music Competition and Instrument Award. He has put both to good use. His fresh-faced, lightweight and uncommonly lyric approach to the Brahms Second Sonata allows him to enjoy the beauty of its long, flowing passages. There are certainly more dramatically intense accounts of the work in the catalogue, but this expressively convincing reading, with an acceptable degree of rhythmic freedom, is so totally likeable in its happy and trouble-free approach that I will be returning to it many times.
The crunchy passages in the opening movement of the Prokofiev Second Sonata are well served by Gilman's impeccable intonation and the technical fireworks of the second movement are enhanced by his lightning traversal. With a Russian–Jewish heritage he knows how to capture the melancholy of the third movement before embarking on a trenchant final Allegro con brio.
He flies around the instrument with unfailing accuracy in the Wieniawski Variations, with his cross-string passages kept magically lightweight, left-hand pizzicatos unflustered and double-stopping faultless. The dash to the finishing line is as brilliant as any on disc, and with such a comprehensive and scintillating display of technical acrobatics the two short Stephen Foster pieces that follow seem somewhat pointless.
In the young Russian-born pianist Marina Seltenreich Gilman has an immaculate partner who is his equal in interpretation and who greatly adds to the success of this outstanding disc. The balance between instruments is ideal, and the sound quality superb.
DAVID DENTON