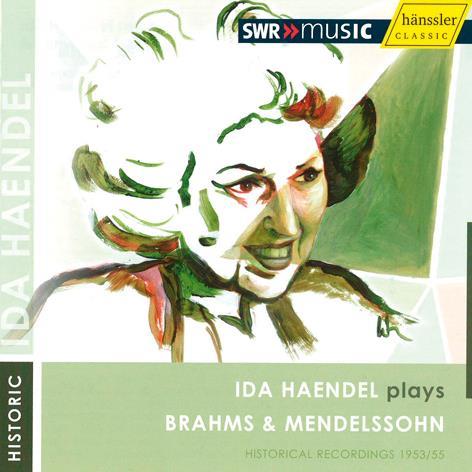 THE STRAD RECOMMENDS
The Strad Issue: January 2009
Musicians: Ida Haendel (violin) Stuttgart Radio Symphony Orchestra SWR, Hans Müller-Kray (conductor)
Composer: Brahms, Mendelssohn
These recordings, made in 1955 and 1953 respectively, are magisterial performances of profound intensity. In both of these concertos Ida Haendel's playing is muscular. This comes across in spite of the slightly muddy recording quality – typical of the time – and the rather ragged orchestral playing. Haendel herself is well composed for the most part, although she too has moments of rather shrill tone and dubious tuning, as in the finale of the Brahms concerto. Somehow, though, these touches of human frailty elevate the disc above the clinical imperiousness of Heifetz's playing.
The Brahms concerto is of the 'monumental' cast – no doubt very different from the leaner sonorities of the work as it might have been performed by Joachim. A powerful vibrato is evident almost everywhere, although this is carefully controlled in higher registers – something that cannot be said of the rather tremulous flute entries in the first movement, or the equally wobbly oboe playing in the second. At times, Haendel's steady pace can appear a little too regular, at others it gives the work an admirably exploratory quality. There is some truly heart-rending playing here, as in the minor theme of the slow movement.
The Mendelssohn concerto seems somehow more dated. Here the tone sounds a little too saccharine, marring the Classical lines of the work. The G major theme in the first movement is taken very much slower; this is a feature of many modern performances, but the extent to which she drags the tempo back creates a theme more bloated than serene. The volatility of the orchestral tempos here is commendable, however, and perhaps serves to remind us of the date of these performances, another example being the raw bassoon tone in the slow movement of the Brahms.
Whether or not one can tolerate the imperfections, I would recommend this disc to any listener. Would that more modern performances had the same level of intensity and presence.
David Milsom