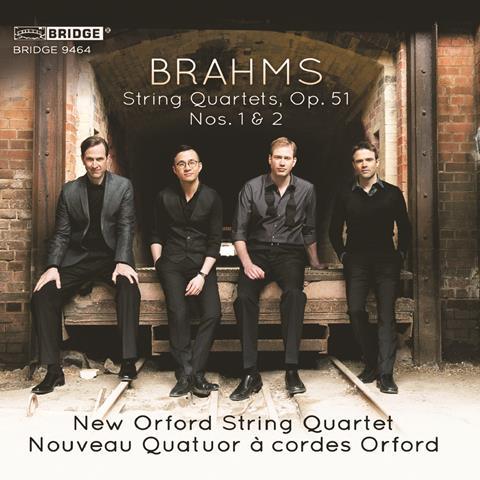 The Strad Issue: February 2016
Description: Playing of warmth that gets to the heart of Brahms's elusive quartets
Musicians: New Orford Quartet
Composer: Brahms
Brahms's op.51 string quartets synthesise Beethovenian structural integrity with Schubertian lyricism under high musical pressure. The resulting contrapuntal compression was to have a vital creative impact on both Schoenberg and Webern. The greatest challenge for any string quartet is therefore to sustain a convincing musical narrative that fuses Romantic intensity with expressive concision.
If the LaSalle Quartet's classic accounts for Deutsche Grammophon veer towards the Expressionistic – in those players' hands the third movement of the C minor (no.1) is deeply unsettling – the New Orford Quartet aligns these elusive scores more closely with Brahms's other music of the 1870s. Emphasising horizontal flow rather than vertical thrust, this fine ensemble uses golden cantabile, subtle portamento inflections and affectionate phrasing to imbue Brahms's immaculately crafted inspiration with a nostalgic warmth that defuses any hint of creative aloofness.
This is especially noticeable in the A minor (no.2), in which the subtle motivic relationship between the opening movement's principal themes metamorphoses from barely containable despair into pure contentment as though it were the most natural thing in the world.
The New Orford captures the world-weariness of this music (Brahms was still only 40 at the time) with a tantalising, noble restraint, matched by engineering that cocoons the listener in velvety sound.
Julian Haylock