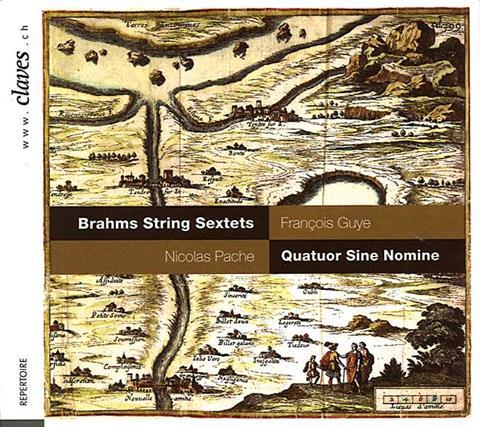 The Strad Issue: February 2015
Description: Performances that could have benefited from greater depth
Musicians: Sine Nomine Quartet, Nicolas Pache (viola) François Guye (cello)
Composer: Brahms
This Lausanne-based ensemble provides a pleasant disc of Brahms's essays in the string sextet medium. Things begin well enough with op.36, arguably the more successful and well-known work. The players avoid the turgid quality that mars many a Brahms rendition – there is in fact a praiseworthy tonal transparency, admirably conveyed by Claves's clear recording. Playing style is clean and precise, but the overall impression can be a little underwhelming: the first movement's developmental crisis point lacks fire, the slow movement comes across as slightly superficial and the initial, noble theme of the finale could reveal greater richness.
Op.18 is a tricky work to pull off. The first movement here feels terribly stolid, hardly aided by the lack of a proper legato in the opening cello theme (it gets broken up by successive individual emphases on each note of a phrase – the so-called 'Menuhin slur'). This contributes to a sense of all the details being ground out with equal importance, failing to depict foreground and background – a serious problem in the varied landscape of the second movement as well.
Overall, then, this is a perfectly enjoyable listening experience, though I have certainly heard more profound utterances.
DAVID MILSOM