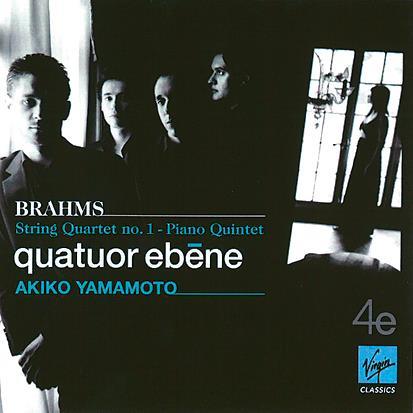 THE STRAD RECOMMENDS
The Strad Issue: January 2009
Musicians: Ébène Quartet, Akiko Yamamoto (piano)
Composer: Brahms
The Ébène Quartet offers the most highly energised and powerful opening movement to Brahms's first quartet that I have yet encountered. The players bring turbulence to the climatic moments and a tangy quality in the upper strings that rivet one's attention afresh to a familiar score. Dynamics are often taken to the limit, with the leader, Pierre Colombet, digging deep into his strings. As contrast comes a soft-grained 'Romanza' and a spacious reading of the third movement that underlines the 'molto moderato' indication in its title. I would have preferred the first movement's high temperature to reappear earlier in the final Allegro, but the players choose to hold it back for a fiery conclusion.
The Piano Quintet is approached with much the same degree of polarity. It is an account distinguished by the level of interplay between instruments, with inner voices always afforded due regard. Akiko Yamamoto is a nimble pianist who avoids the controlling presence that spoils many recordings – her second movement is played with tenderness and a touch of melancholy. Fluidity of tempo and an impetuosity appear in the Scherzo and Finale, but they are also full of drama and excitement.
Throughout, the technical quality of the Ébène players is impressive, and they are treated to a very vivid recording.



David Denton