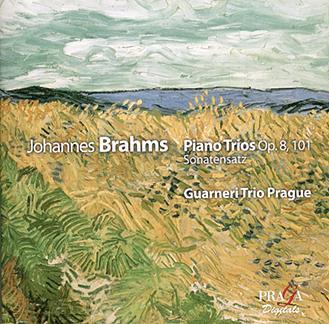 THE STRAD RECOMMENDS
The Strad Issue: January 2008
Musicians: Guarneri Trio Prague
Composer: Brahms
Not many recordings of the Brahms trios have caused a stir in the Potter household over the years. This new disc of the first and last trios comes near to upsetting the status quo, but on reflection I shall stay with the grand old teams of Katchen, Suk and Starker (Decca) and Istomin, Stern and Rose (Sony), who agree amazingly closely on the tempos in the B major Trio, apart from a slight divergence in the Scherzo.
The Guarneri Trio is appreciably faster in two movements. No damage is done in the long opening Allegro, where pianist Ivan Klánsk´y plays truly 'con brio', but I do think the players could have dared a slower tempo for the Adagio. Theirs is more like Andante, so that the lovely central cello theme, beautifully played by Marek Jerie, is quite fast.
The Czechs do convey an impression of youthful high spirits with their consistent rhythmic vivacity but their recording team allows one of those strange little conflicts to develop between the vibratos of violinist ?Cen?ek Pavlík and Jerie and the microphone, most noticeably in the Scherzo.
After a fiery 'FAE' Scherzo from Pavlík and Klánsk´y, we have the C minor Trio which – as in a recent live performance I heard the Guarneri give – is superbly played. The work is a strange one, outer movements heroic, inner ones intimate, but the Czechs have the full measure of its varying moods. Splendid piano playing and fine tone from the strings are heard in a good recording.
TULLY POTTER