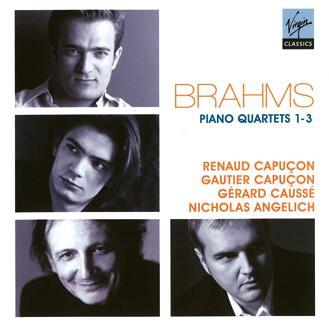 The Strad Issue: January 2009
Musicians: Renaud Capuçon (violin) Gérard Caussé (viola) Gautier Capuçon (cello) Nicholas Angelich (piano)
Composer: Brahms
Given the line-up of artists, these discs appear to have all the makings of unqualified success. However, although the strongly projected readings display striking virtuosity, the end musical product does not consistently convince.
These performers' account of the opening Allegro of the G minor Quartet, for example, fails to capture the movement's predominant intensity and dramatic fervour. They add an engaging lilt to the plaintive Intermezzo, but this movement begs more charm and delicacy overall, especially in the coda; and the ensuing Andante would benefit from greater lyricism, even though its more animated central section and its powerful dramatic climax are well characterised. The Hungarian dash of the finale also needs a more unbuttoned approach throughout, although Nicholas Angelich's fiery cadenza gees up his colleagues for an exciting molto presto coda.
Their reading of the A major Quartet yields rather more lyrical moments to savour, notably for the first movement's second subject and in the haunting nocturne-like Poco adagio; and there is some brilliant playing at the end of the Scherzo's reprise. But one's interest is not sustained throughout, partly due to some reticent playing in the Scherzo, and partly to Brahms's uncharacteristic lack of invention in the second part of the trio and the prolixity of his Finale.
The C minor Quartet is the pick of the crop. These players realise the powerful drama of the opening movement, right from its tragic introduction through its restless and increasingly agitated development to its agonised coda. They perform the brief Scherzo with buoyancy and neatness, contribute some sublimely beautiful cantabile in the pathos-laden, ternary Andante, and convey all the passion of the Finale.
This is accomplished, sometimes luxuriant playing, then, and the recording is full and vivid, but these interpretations do not reveal, for me at least, all that this music has to offer.
ROBIN STOWELL