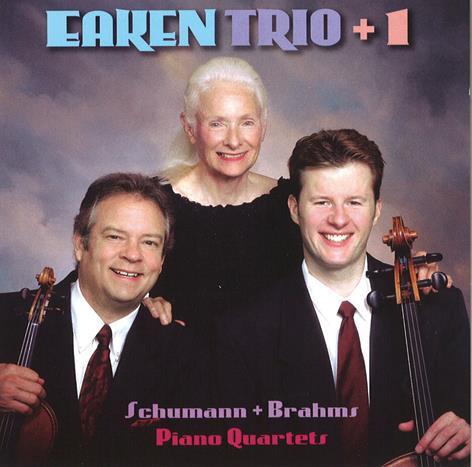 The Strad Issue: January 2010
Musicians: Eaken Trio, Joseph Esmilla (viola)
Composer: Brahms, Schumann
The Eaken Trio of Pennsylvania played these quartets 17 times in the 2007–8 concert season with Joseph Esmilla, before he returned to his native Philippines. Engineer Timothy Breon captured them at the Mount Gretna home of Edwin Dunlap. How much currency the CD will have, outside the circle of those who have heard these artists at home or on tour, I cannot say. The musicianly interpretations communicate a real feeling of collaboration, but better ones can be heard. Resonant recordings slightly diminish the cello's impact.
Pianist Gloria Whitney, who often makes a lovely sound, is extended by both works and drops the odd stitch. The strings deliver heartfelt, full-bodied sonorities but phrasing can be square-ish in the Schumann (compare Raphael Trio/Moog on a Music in Ouray CD) and I wish they would play really quietly sometimes. The cellist's solo in the Andante cantabile is a bit stodgy.
Everyone makes heavy weather of the more strenuous parts of the Brahms. On the other hand, the scherzo moves well with its muted tones and there are grand moments in the Allegro and the Andante con moto. The slower episode in the virtuoso finale is especially enjoyable.


TULLY POTTER