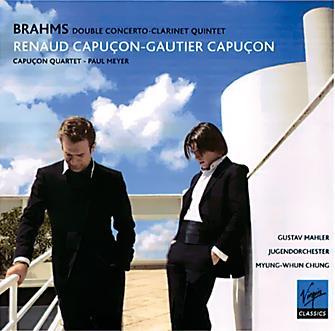 THE STRAD RECOMMENDS
The Strad Issue: January 2008
Musicians: Renaud Capuçon (violin) Gautier Capuçon (cello) Paul Meyer (clarinet) Capuçon Quartet, Gustav Mahler Youth Orchestra, Myung-Whun Chung (conductor)
Composer: Brahms
Gautier Capuçon's first cello entry sets the scene for an affectionate view of the 'Double' Concerto, very much the antithesis of the dramatic stance taken by Leonard Rose and Isaac Stern in a performance that I have long used as my benchmark (Sony). As the opening movement unfolds, that affection encourages the solo duo to dwell lovingly over certain phrases, with rubato tenderly applied and the tonal quality suave and eloquent. That it has been well-considered is clear from the unanimity of the Capuçons' playing.
The opening to the central movement finds a welcome urgency, though the pulse slows later and the answering passage between the two solo voices are rather choppily handled. Once the finale gets past its initial statement the music gains momentum, but there are too many moments in the performance that are self-indulgent, undoubtedly beautiful and technically assured as they are. Myung-Whun Chung adds a nicely balanced accompaniment in a likeable sound quality.
That sensitive, warm and lyric approach continues into the Clarinet Quintet: the tempos are more leisurely than most of their rivals on disc as they savour every bar to the full. Clarinettist Paul Meyer is placed very much in a solo role with the impeccable strings as his support. Together they create many passages of quiet repose, with beauty in abundance, and dynamics are followed to the letter of the score. As with the concerto, we need many other ingredients for a totally satisfying experience, and here the mellow quality of the recording combines rather than delineates the quartet.
DAVID DENTON