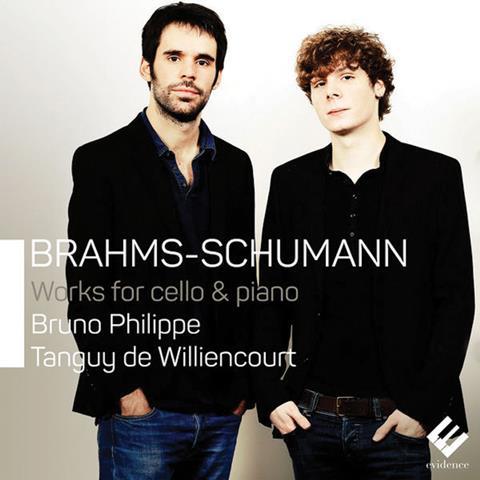 The Strad Issue: October 2015
Description: Classical restraint in Romantic music for this French duo's recording debut
Musicians: Bruno Philippe (cello) Tanguy de Williencourt (piano)
Composer: Brahms, Schumann
Two young French musicians offer promising and subtly interpreted performances of these central works of the Romantic cello repertoire for their debut disc.
Bruno Philippe, a pupil of Frans Helmerson at the Kronberg Academy, opens Brahms's E minor Sonata in a silkily smooth and nicely subdued style. More restrained than most, especially on the lower strings, Philippe eschews the massive weightiness of some interpretations in favour of a more contained, Classical approach. The quality of the recorded sound, never too bright or 'in your face', only enhances this effect. The menuetto is poised and crisp, the flowing quavers of its trio seamlessly even, and the finale's contrapuntal intricacies are satisfyingly audible.
The F major Sonata draws more passionate engagement from the duo, with well-focused tone at its expansive, joyful opening and effective shimmering tremolandos. Ensemble is spot-on between the cello pizzicato and piano in the Adagio but the folk-like melody of the finale rather lacks charm in its presentation.
In the three Fantasy Pieces by Brahms's mentor Schumann, the pair have just the right fluid approach to tempo and make good sense of the composer's myriad subtle dynamic and expressive markings. There is a particularly good sense of the constantly shifting nuances of mood in the middle piece, as well as some lovely hushed repeats.
JANET BANKS