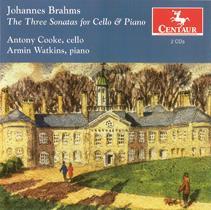 The Strad Issue: January 2012
Description: A Brahms recital where only a transcription comes off well
Musicians: Antony Cooke (cello) Armin Watkins (piano)
Composer: Brahms (transc. Klengel)
Veteran California-based duo Antony Cooke and Armin Watkins add some rugged but uneven Brahms to the recorded canon as they celebrate more than 40 years of playing together. An interestingly hesitant, questioning solo theme opens the E minor Sonata, but a surfeit of rubato quickly mars one's enjoyment. There is so much pushing forward and pulling back that a musical equivalent of seasickness soon ensues. Things do not improve in the wrong-footed minuet and the finale fails to excite.
It is evident, both from his booklet notes and from the devotion with which he embraces the music, that Cooke is a devotee of the D major transcription of the G major Violin Sonata. It's certainly the most successful work here, and the warm, sustained double-stops, aided by Cooke's wide vibrato, bring a real Brahmsian ardour to the Adagio.
The tempo again rocks alarmingly in the F major Sonata's first movement. Things go from bad to worse: an Adagio that ends with a long note sliding fractionally below pitch, a crescendo totally ignored in the scherzo and an overdose of portamento in the Allegro molto. Truly an interpretation that should never have been committed to disc.
The sounds of both cello and piano are warm, but the instruments are sometimes too closely recorded to achieve a good blend.



JANET BANKS