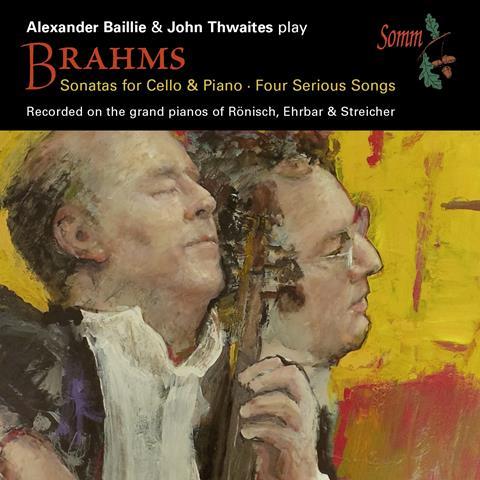 The Strad Issue: October 2016
Description: A Brahmsian 60th-birthday present for cellist Alexander Baillie
Musicians: Alexander Baillie (cello), John Thwaites (piano)
Composer: Brahms
Catalogue number: SOMM SOMMCD 0158
Using three different pianos offers a real insight into the development of the instrument during the 30 or so years separating the Brahms works featured here. The c.1860 Rönisch employed in op.38 offers some distinct advantages in that the bass is not as resonant as on the modern grand, and the bright sound certainly helps Baillie create lucidity in music that can often seem thickly textured. It's a real plus, particularly in the finale, where the contrapuntal strands in the cello's lower register present tricky balance issues. The Ehrbar from the mid-1870s has a richer bass quality that impacts on the heroic sound Baillie and Thwaites deploy in the opening of the F major Sonata, and this richness also enables them to give full scope to sensitive and intense expression in the Adagio. For the Four Serious Songs (originally arranged by Shafran), an 1878 Streicher is used. It has a deep, powerful timbre that is fully in keeping with the sombre nature of the music. These artists offer very intelligent readings of all three works and lend them a tremendous momentum generated by an informed feeling for the ebb and flow of the musical argument. Both players perform the harmonic rhythms very astutely. Although the recording is clear and bright, the cello is placed rather close to the microphone, which diminishes the instrument's dynamic variety. But my main concern is that the cello has moments that are fractionally under pitch: a pity, as this mars what are otherwise interesting and engaging performances.
Joanne Talbot