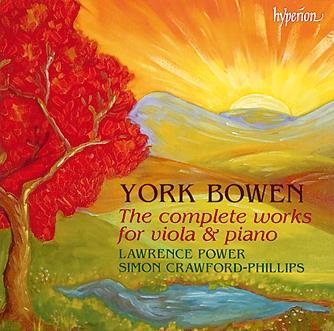 Musicians: Lawrence Power (viola) Philip Dukes (viola) James Boyd (viola) Scott Dickinson (viola) Simon Crawford-Phillips (piano)
Composer: Bowen, Beethoven
These are heady days for lovers of Edwardian English viola music: shortly after Roger Chase's beautiful Benjamin Dale recording (see The Strad, @@@[WILL CHECK WHEN IN OFFICE – MR]), here we have the (almost) complete viola compositions by Dale's fellow RAM student, York Bowen. In 2003 Dutton brought out a single CD of the two sonatas and the Phantasy (reviewed in The Strad, @@@[WILL CHECK WHEN IN OFFICE – MR]), in fine readings by James Boyd that recalled to my ears the gruff, al fresco style of this music's inspirer and first interpreter, the great Lionel Tertis. Bowen, a virtuoso pianist whose second instrument was the viola, accompanied Tertis (at the time viola teacher at the RAM) in many recitals, thereby getting to know at first hand the existing viola repertoire as well as potential pitfalls of writing for the instrument. Indeed, although his piano parts are as full and heavy as any by Brahms or Rachmaninoff, Bowen makes sure that the viola is never covered.
Lawrence Power, who has already recorded Bowen's gorgeous Viola Concerto for Hyperion, makes a strong case for the revival of some marvellous music. Bowen may not have opened new paths, but his well-crafted compositions are as satisfying for the listener as they are challenging and rewarding for the players. Power exhibits an unlimited tonal palette of unique beauty even at the cruel heights to which the viola is taken in the F major Sonata. His partnership with Simon Crawford-Phillips is tight as a glove, with some perfectly unanimous rubatos. Fellow violists Philip Dukes, James Boyd and Scott Dickinson join in for the Fantasia written for Tertis and his class, a charming piece with a Liebestod-like ending. Several first recordings are on offer, including an intriguing viola obbligato to the first movement of Beethoven's 'Moonlight' Sonata. Typically informative notes by Lewis Foreman and Hyperion's excellent sound and presentation complete an issue I cannot recommend too highly.
Carlos María Solare