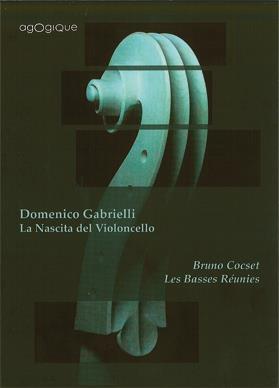 The Strad Issue: January 2012
Description: A CD and book package that aims to get back to the birth of the cello
Musicians: Bruno Cocset (cello/bass violin/tenor violin/alto a la bastarda) Emmanuel Jacques (cello/tenor violin) Mathurin Matharel (cello) Richard Myron (double bass) Bertrand Cuiller (harpsichord, organ)
Composer: D. Gabrielli, Vitali, Jacchini & Degli Antoni
This disc explores the cello's origins and early repertoire. Works by Domenico Gabrielli are interspersed with examples by Vitali, Degli Antoni and Jacchini, played by Bruno Cocset on seven instruments made by Charles Riché. These reproduction instruments illustrate not only the 'organological wealth' but also the lack of standardisation in the construction and tuning of 17th-century bass stringed instruments. The boxed package includes a 136-page booklet in French, English and German, with colour photographs of each instrument and monochromes of Riché and Cocset at work. It could be more informative about historical detail and more carefully proofread.
The booklet explains how each instrument was chosen 'to bring out the particular nature' of each piece' – though the criteria seem fairly dubious. Nevertheless, Cocset is master of these instruments and his imaginative interpretations throw new light on the music, even if they comprise a mixture of period and modern elements. My highlights include his accounts of Gabrielli's seven ricercars variously on a six-string bass violin, two different tenor violins and one cello, and his two contrasting versions of Gabrielli's G major Sonata, one with bass violin (plus harpsichord and bass) and another more dramatic, extrovert one with cello (plus harpsichord and cello).For me, however, Vitali's vigorous Ruggiero and three sonatas by Jacchini steal the show. The complex programme concludes as it began with one of Vitali's Passagallias, sensitively shaped.
The recording is faithful and reverberant. Even if these performances are not always idiomatic, they have a warmth, allure and sincerity that are wholly seductive.



ROBIN STOWELL