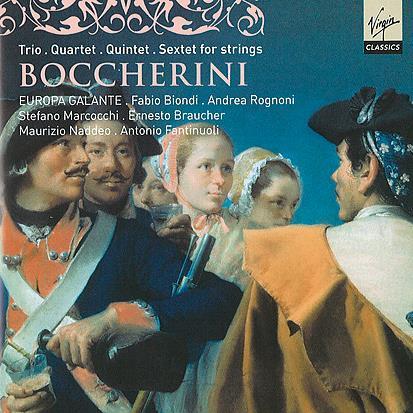 The Strad Issue: January 2009
Musicians: Europa Galante
Composer: Boccherini
The musicians of Europa Galante here offer strongly projected accounts of a cross-section of Boccherini's chamber music for four different combinations of stringed instruments. Unsurprisingly, principal violinist Fabio Biondi and first cellist Maurizio Naddeo are the major melodists and executants of the most challenging solo figuration, but the others play their part in faithfully reproducing Boccherini's often complex textures.
Biondi predominates in the Trio op.14 no.4, which proves an excellent vehicle for his virtuosity and musicianship. He enters into the sensibility of Boccherini's charming Italianate lyricism; every phrase is alive and he adds neat and tasteful ornamentation. Boccherini's Quartet op.41 no.1 and Quintet op.45 no.1, both in C minor, have all the drama, intensity and melancholy that one might expect from music in that key. These players successfully convey the dark, yet energetic atmosphere of the Quartet's Prestissimo outer movements, which have some material in common, and they are profoundly expressive in the melancholy Andante, a reworking of the 'Quando corpus morietur' of Boccherini's 1781 Stabat mater. The Tempo di minuetto seems skittish by comparison, rather like its attractive counterpart in op.45 no.1, which, though unusual of content, stands between two fast and furious movements combining clearly articulated passagework and dramatic contrasts. The lengthy opening Adagio, too, is imaginatively realised.
Naddeo masters the demanding first cello part of the Sextet op.23 with admirable assurance, particularly in the opening Allegro moderato, and Biondi treats us to some breathtaking spring bowing towards the finale's end. The well-balanced, resonant recording gives a pleasing bloom to the period-instrument sound.


ROBIN STOWELL