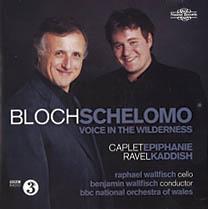 The Strad Issue: January 2014
Description: A poignant tribute to lost generations
Musicians: Raphael Wallfisch (cello) BBC National Orchestra of Wales/Benjamin Wallfisch
Composer: Bloch, Caplet, Ravel
United by a biblical theme, these four works largely utilise the cello as a narrative voice, be it contemplative or commanding as in the two Bloch works, or offering a commentating role as in Caplet's Epiphanie, which depicts the Adoration of the Magi. In Ravel's Kaddisch the cello takes the vocal line, the modal Missinai melody, here given a masterfully eloquent account by Raphael Wallfisch, who carefully charts the long melismas to give overall shape to the musical prayer. Dedicated to members of the Wallfisch family who perished in the Holocaust, this imaginatively chosen programme lends special poignancy to the whole project.
Bloch's two works for cello have similar harmonic features: the augmented intervals are aching in their emotional intensity and are fully realised by these artists. Equally, both works have improvisatory qualities designed to yield spontaneity in the long and chromatic melodies. This innate flexibility in the nature of the writing is both celebrated and controlled in this warm recording, with both Raphael and Benjamin Wallfisch steering a purposeful sense of direction through the narrative, thus achieving compelling cogency. Raphael brings impressive colour and characterisation to the cello part – bold, dramatic and magically sensitive, particularly in his reading of Schelomo – and Benjamin is outstanding in Epiphanie, where the intricate, Debussyan instrumentation is exquisitely textured, and the orchestral partnership is subtle and nuanced.



Joanne Talbot