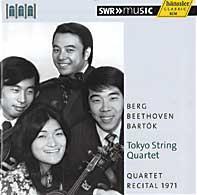 The Strad Issue: January 2013
Description: A welcome new release of a great ensemble's early concert appearance
Musicians: Tokyo Quartet
Composer: Berg, Beethoven, Bartók
No sooner do we wave farewell to the Tokyo Quartet than it appears on CD back at the beginning again. This is a recital given at the 1971 Schwetzingen Festival, two years after the ensemble was founded. The authority it brings to Berg's op.3 Quartet belies its youth – the myriad details of this complex score are assimilated into a powerful and flowing narrative, performed with uncanny textural clarity.
Beethoven's E flat major Quartet op.74 receives a mostly genial, tonally rich performance. Again, the balance is exemplary: when the warmth of the first movement is disturbed by the outbreak of semiquaver arpeggios in the first violin, it is the inner parts which take precedence. There is plenty of emotional depth – the A flat minor section of the second movement is spellbinding – but this is a refreshingly straightforward account: the trio of the Presto third movement does not launch forth, as it often does, like a greyhound, and the contrasts of the final variations are colourful without being overly stressed.
Bartók's First Quartet progresses quickly from its ethereal opening into furious intensity. There is a deliberate edge of roughness to the last movement, the repeated quavers gritty and the thematic contours exaggerated. The fugue, however, is an elegant delight. The recorded sound is close up in the resonant hall.



TIM HOMFRAY