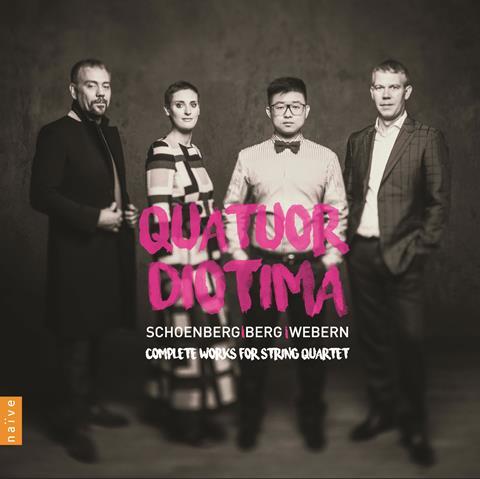 THE STRAD RECOMMENDS
The Strad Issue: August 2016
Description: A Second Viennese quartet survey that's more complete than most
Musicians: Diotima Quartet, Sandrine Piau (soprano) Marie-Nicole Lemieux (alto)
Composer: Berg, Schoenberg, Webern
Catalogue number: Naive V 5380 (5 CDs)
The kernel of this set is a recording of Schoenberg's Second Quartet, Berg's Lyric Suite and Webern's Bagatelles made in 2010 and reviewed in The Strad in May 2011. To mark its 20th anniversary, the Diotima Quartet has since gone into the studio to supplement these works with the four remaining discs' worth of the three composers' music for quartet. And more complete it is than most, including as it does two early movements by Schoenberg (a Presto and a Scherzo) and a Rondo by Webern, as well as a rejected vocal miniature from the Bagatelles, all pieces that haven't habitually featured in such 'complete' sets before.
The playing throughout is perfectly attuned to the different composers' sound worlds, and there's a clarity of line and of purpose that transcends the music's perceived aural complexities. The Diotima specialises in contemporary repertoire, so the players unsurprisingly have a firm grip on the minutiae of the Webern – some exquisitely shaped playing here – as well as the terse arguments of late Schoenberg, yet there's also a solidity and warmth to their playing of the more late-Romantic examples of these composer's output, such as Webern's Langsamer Satz and Schoenberg's 'no.0'.
Despite an apparent four violinists being involved along the way (the distribution is not especially clear in the documentation), there's a sense of unity to the playing style, only marred by the rather dull sound that characterises the original, French-made 2010 recordings when compared with the airier acoustic of the later 2014–15 Berlin radio sessions. Sandrine Piau (introducing the 'air from another planet' in Schoenberg's Second Quartet) and Marie-Nicole Lemieux (in the last movement of the Lyric Suite and the Webern addendum) contribute skilled vocal cameos, though it's a pity that no texts are provided, given the significance of the words in all these cases.
Matthew Rye