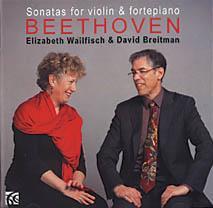 Description: Admirable accounts that could have exploited greater possibilities of period style
Musicians: Elizabeth Wallfisch (violin) David Breitman (fortepiano)
Composer: Beethoven
Historically informed performances of Beethoven's music have become an established part of the performance landscape, and this set, bringing together celebrated period-instrument specialists Elizabeth Wallfisch and David Breitman, promises much. In many ways, expectations are fulfilled – the carefully chosen instrumentation and set-up (Wallfisch uses a Dodd bow of the 1780s and Breitman a replica of a 1792 Walter piano) give a convincing evocation of Beethovenian sonorities. The listener soon tunes in to the precise if nasal piano tone and the warmth of the violin colour, although at various points, such as the finale of op.23, the violin can be rather scratchy – due, perhaps, to unforgiving microphone positions. Indeed, the lively fast movements, as at the opening of op.12 no.2, reference much of what we have come to expect of 'period' Beethoven performance, including heavy accents and juxtaposed dynamics.
Where this disc is a little disappointing is in the lack of much keyboard arpeggiation, melodic rubato (blurring strict vertical alignment) and the only infrequent references to portamento, certainly compared to a reading of the contemporary evidence – which the performers say they have studied – although such flexibilities are more evident in the later sonatas, such as the second movement of op.24. The results, though interesting, are also a little dry – adoption of certain aspects of historical practice while underplaying others creates a somewhat one-sided historical perspective. Certainly there are more beguiling renditions of these sonatas, although the disc otherwise offers interesting and intelligent insights into these celebrated works.



David Milsom