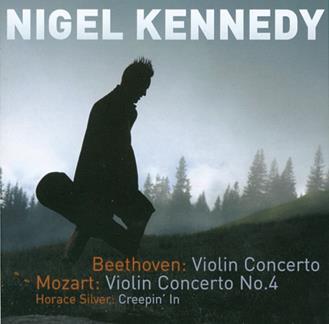 THE STRAD RECOMMENDS
The Strad Issue: January 2008
Musicians: Nigel Kennedy (violin/director) Michal Baranski (double bass) Polish Chamber Orchestra
Composer: Beethoven, Mozart, Silver
As a pupil of Menuhin and a grand-pupil of Busch, Nigel Kennedy ought to know a thing or two about the Beethoven Concerto. Both of them played it with a chamber orchestra sans conductor, but Menuhin only on an unsuccessful recording and Busch only on tour.
Kennedy's solution to holding the long opening movement together is a brisk tempo; and the joins still show. There are fussy details along the way and I get a rather unsettled feeling throughout. Twice Kennedy injects some inwardness into his playing, briefly during the minor-key episode and in the passage after the Kreisler cadenza.
The Larghetto is taken very slowly. In my experience, the ideal timing is between nine and ten minutes. Kennedy takes 13. He sustains it as a piece of violin playing but whereas the best exponents inexorably draw you in, he just sounds slow and by the end I am doing the mental equivalent of shuffling my feet.
The Rondo is quite robust, once past a crudely played cadenza. Towards the end Kennedy gives us his jungle drums-style cadenza which I have quite enjoyed in concert. Here it does not work. The orchestral tuttis throughout are a bit coarse.
In the Mozart, Kennedy adopts an imitation period-instrument tone, small, thin and shrill. The slow movement is mannered and at times almost swoons. The cadenzas, supposed to be jazzy, are weird, almost oriental. The disc ends with a feeble rendition of Horace Silver's Creepin' In. The recordings verge on the aggressive.
TULLY POTTER