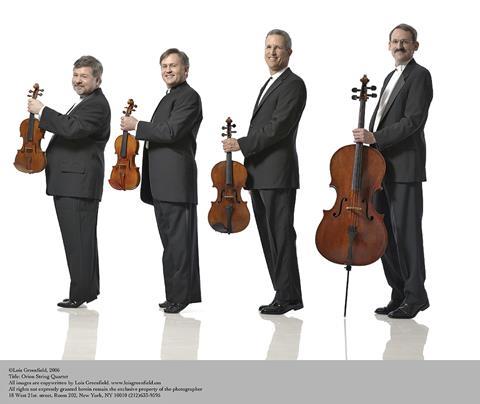 The Strad Issue: January 2007
Musicians: Orion Quartet
Composer: Beethoven
The Orion Quartet here displays the fruits of more than two decades of exploration and insight into the music of Beethoven. Violinists Daniel and Todd Phillips swap around the leader's role, but this is inconsequential as these brothers are well matched in tone, technical facility and musical intelligence.
All four players bring rich musical characterisation and power to their interpretations of the op.59 triptych, paying close attention to detail and demonstrating a keen appreciation of texture, blend and balance. Their account of the introspective third movement of no.1 is a particular case in point, as is their communication of the harmonic movement of the mysterious opening of no.3. Tempos are largely well judged, facilitating natural and expressive phrasing, as in, for example, the reposeful second movement of no.2. The finales are exhilarating, not least the somewhat fast no.3.
Their unanimous reading of the first movement of op.74 is well paced, its introduction spacious yet questioning. They are highly expressive in the fluid Adagio and appropriately boisterous in the Scherzo. The closing variations are perceptively characterised. Daniel Phillips is outstanding in the fifth variation and the coda's surprises are commendably conveyed.
The Orion's account of the first movement of op.95 is appropriately taut and concentrated. Todd Phillips shapes the line of the melancholy Allegretto with the utmost sensitivity and inspires his colleagues to infuse the scherzo with all the requisite energy and seriousness. Despite some minor blemishes, the finale is dramatically conveyed, culminating in a wonderfully light, swift coda.
This ensemble's policy not to repeat the first-movement expositions of op.59 nos.2 and 3 and op.74 is questionable considering the short playing-time of this three-disc set. The recordings are rich in sonority, yet truthful and well balanced, and do full justice to these players' refined, searching and powerfully persuasive readings.
ROBIN STOWELL