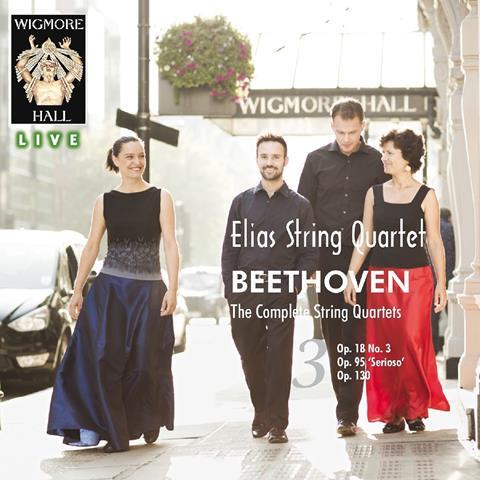 THE STRAD RECOMMENDS
The Strad Issue: April 2017
Description: Moments of magic in this latest Beethoven set from the Elias Quartet
Musicians: Elias Quartet
Composer: Beethoven
Catalogue number: WIGMORE HALL LIVE WHLIVE 0086/2 (2 CDs)
This is the third volume in the Elias's complete Beethoven cycle, recorded live in the warm acoustic of (the mercifully quiet) Wigmore Hall. There is an awesome clarity and accuracy to the playing: the sound is warm, the music breathes, and phrases sound as if they are being shaped naturally and spontaneously.
Op.18 no.3 is predominantly light and genial. Nothing is unduly emphasised, but moments of magic emerge, such as the pianissimo section near the end of the second movement. The finale scampers along delightfully.
In the F minor Quartet the players make much of the contrasts, with vivid switches of dynamic and beguiling lyricism along with grim rhetoric. After the flowing slow movement comes raw, visceral playing in the Allegro assai, which the gentler D major section does little to allay. The finale is neurotic and unsettling. In the late B flat major Quartet, light and shade are equally present in the first movement, where elegance and drama are mixed. After the fleet Presto the melodic contours of the Andante twist nicely as neatly played semiquavers bubble around. In the great Cavatina the leader, Sara Bittloch, produces some intrusive slides, and the tempo takes a while to settle, but it is nonetheless a moving reverie. The finale dances happily.
Tim Homfray