The handwritten manuscript, auctioned at Sotheby's in London, had been thrown into doubt by Beethoven scholar and Manchester University Professor Barry Cooper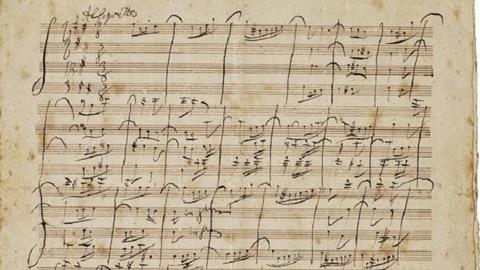 A manuscript attributed to Beethoven failed to sell for the expected £200,000 yesterday following a row over its authenticity.
The handwritten string quartet score for the composer's 1817 Allegretto in B minor was part of the same Sotheby's lot featuring Mahler's handwritten manuscript for his Symphony no.2, which sold for a record breaking £4.5m.
The Beethoven work had been thrown into doubt by Manchester University Professor Barry Cooper on BBC Radio Four's Today Programme, despite Sotheby's experts vouching for the piece. Cooper alleged there were 'several aspects which prove absolutely that it couldn't possibly be Beethoven's hand', including incorrect notes. He continued: 'The natural signs are completely different from any natural signs in any genuine Beethoven script.'
It later emerged that rival auction house Christie's, had passed up the opportunity to sell the score last year because of doubts over authenticity, according to The Telegraph.
Sotheby's state that the manuscript is a second copy, made by the composer himself, of a work given to Richard Ford, a 19th century writer. Ford's copy was discovered in a Cornish castle in 1999. This second newly-discovered version was apparently handwritten by the composer the following day for Ford's travelling companion, Reverend John Abbiss, and bears the inscription: 'This quartet was composed for me in my presence by Ludwig v Beethoven at Vienna Friday 28th November 1817.'
Speaking on The Today Programme, Sotheby's director of books and manuscripts Dr Simon Maguire dismissed suggestions that Abbiss had copied Ford's original document. 'It is more a matter of Professor Cooper misreading the manuscript than anybody else, let alone Beethoven,' he said.
Photo: Sotheby's