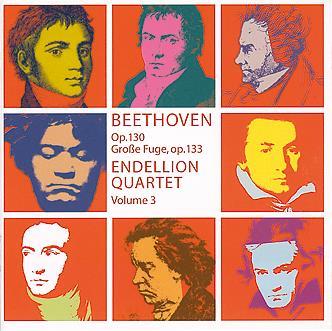 THE STRAD RECOMMENDS
The Strad Issue: January 2007
Musicians: Endellion Quartet
Composer: Beethoven
The opening of this extraordinary work – a serenade in excelsis – invites the listener in, as it is played by the great Endellion Quartet. The contrasts in the slow introduction are fully comprehended and throughout the first movement the alternation between fast and slow, loud and soft, is finely handled. The sound world is thoroughly Beethovenian. The exposition repeat is taken.
The Presto goes like the wind and the Andante is given a swinging tempo – the pizzicatos have an engaging spring to them. The lovely playing in the German dance perhaps misses some of the see-saw mood Beethoven intended, but the polyphony is nicely judged.
The opening of the Cavatina is beautifully shared between the violins and the tempo is slow without losing the essential singing quality. The outer sections are well poised between the other-worldly and the consolatory. Leader Andrew Watkinson does not quite realise the choked isolation of the central section, yet how wonderful it is that he, Peter Cropper (Lindsay) and Christopher Rowland (Fitzwilliam), three Britons, should be among the few modern leaders to make a real stab at this movement.
The Great Fugue is played as the finale, the players launching into it with a magnificent appreciation of its peaks and troughs, its heroic outbursts and its points of stillness. The substitute finale is appended, taken a mite faster than I like but working up tremendous brio – some scrappy playing and poor intonation are forgivable when the interpretation is saying so much. This important disc is well recorded.
TULLY POTTER