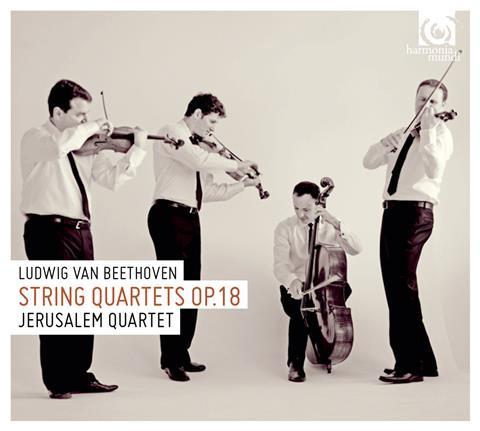 THE STRAD RECOMMENDS
The Strad Issue: November 2015
Description: A quartet fully alive to the characters of Beethoven's early op.18 set
Musicians: Jerusalem Quartet
Composer: Beethoven
The Jerusalem Quartet members bring their own cultivated blend to these extraordinary works without either dampening their novelty or introducing anachronistic mannerisms: they respect the set's turn-of-the-19th-century identity but also its internal diversity. Listen to the neatly turned first movement of op.18 no.2 to hear these players at ease with themselves, comfortable within a chosen style but always on the lookout for what Beethoven has in store.
Extremes of tempo and timbre aren't their way. Even so, op.18 no.4, the most radical child of the family, stalks with plenty of spite until it manages a wan smile in the trio. In general the Jerusalem is open to Haydn's influence on the set, perhaps never more obvious than in the off-beat tensions of no.6, where the players pare back the vibrato for the 'La malinconia' variation-finale without compromising the essential sweetness of their shared sound.
Slow movements are especially well judged, not too slow apart from a touch of hymn-like grandeur in no.5; whereas a tender pulse brings to life the purported Romeo and Juliet backstory to no.1, less adagio and more 'affettuoso ed appassionato', as required. No.3's Andante con moto is like a much-needed hug from a friend, warm and uncomplicated, aware of serious matters but not picking away at them, before the good times return in the minuet and finale. If this is the start of a new cycle, recorded in the close but not oppressive acoustic of a Berlin studio, further instalments will be worth the wait.
PETER QUANTRILL