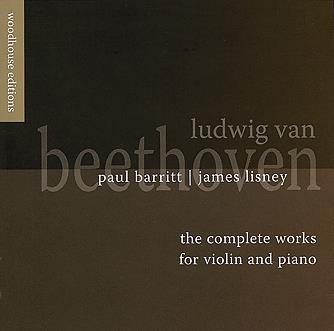 The Strad Issue: January 2007
Musicians: Paul Barritt (violin) James Lisney (piano)
Composer: Beethoven
It is unsurprising that Paul Barritt and James Lisney share a common view of Beethoven, because their richly toned, expansive interpretations are the results of a recording project extending over a lengthy period. Although they may miss the half-lights offered by some other duos, they are highly effective on their own terms, and their imaginative, thought-provoking accounts will win over many. Their magisterial opening of op.47 and their subtle appreciation of mood changes in, for example, the variations of op.12 no.1 and the Allegro assai of op.30 no.3 are cases in point; furthermore, their phrasing is consistently finely drawn, their rhythms are poised, their expressive range is wide, and their articulation is clear, not least in the bucolic finale of op.30 no.3.
These players' witty, playful, yet well-contrasted characterisation of the early sonatas is outstanding – sample the finale of op.12 no.1, the Allegro vivace of op.12 no.2 and the central movement of op.23. The same goes for their intense, dramatic account of the opening movement of op.30 no.2, their sublime lyricism in much of opp.24 and 96 and the central movement of op.12 no.3, and their sense of propulsion in the finale of op.23. The challenging concertante elements of op.47 and the more pastoral qualities of op.96 are also largely commendably conveyed, while the 'Se vuol ballare' variations are winningly characterised, along with the tender Rondo (WoO41) and the six attractive German Dances.
The recordings are naturally balanced in a spacious but clearly focused acoustic, and Simon Nicholls's highly perceptive booklet notes provide an additional bonus. Ultimately, though, I found these interpretations less than consistently compelling, not least because of some pedestrian tempos in numerous movements, notably the first movements of op.23 and op.30 nos.1 and 2, the variations of op.12 no.1, the scherzo of op.30 no.2 and the finales of op.12 nos.2 and 3 and op. 96.
ROBIN STOWELL