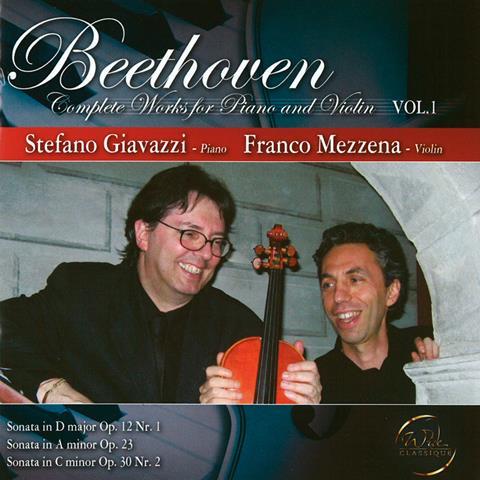 The Strad Issue: January 2009
Musicians: Franco Mezzena (violin) Stefano Giavazzi (piano)
Composer: Beethoven
That Franco Mezzena and Stefano Giavazzi give assured and mostly very clean performances of these seminal works is only to be expected, given their credentials. Mezzena, a pupil of Salvatore Accardo, is an internationally recognised soloist and a pedagogue with wide-ranging teaching engagements in Rotterdam, Leipzig, Oxford and Mantua, and he has recorded all 29 of Viotti's violin concertos for Dynamic. Giavazzi boasts numerous piano competition successes and teaches at Mantua's 'Lucio Campiani' conservatoire.
First impressions in the Sonata op.12 no.1 are of a well-drilled performance, cleanly recorded and with a sound of sunny disposition.
My aural palette, however, was not satisfied. Mezzena's fast and intrusive vibrato gets everywhere and admits little variety. His sforzandos are very much the same irrespective of context, and off-string staccatos sound strident, as do the multiple stops. The result (apart from inhabiting a sound world that is unquestionably not that which Beethoven would have envisaged) is unfortunately tiresome. It's not that there is anything wrong as such (except for some rather shrill high-register playing), but rather that the timbre rarely ever changes. Giavazzi's playing is equally uninspiring, if admirably clear, and there is something curiously unpoetic in his readings of melodic figures, as at the opening of the slow movement of op.12 no.1.
Doubtless there are some who would disagree and would praise this rendition for its clarity, finding warmth and vibrancy in a sound that I found monotonous. For my taste, however, more personality is needed to project these seminal works in an effective way.
David Milsom