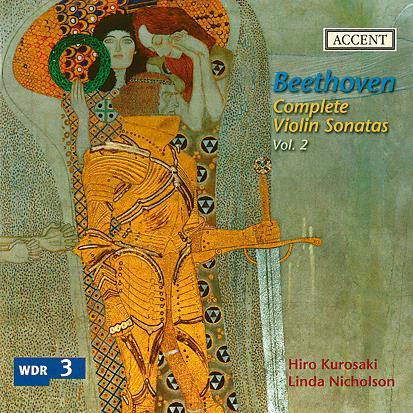 The Strad Issue: January 2010
Musicians: Hiro Kurosaki (violin) Linda Nicholson (fortepiano)
Composer: Beethoven
Period instruments are rarely as precise as the Franz Geissenhof instrument Hiro Kurosaki uses on this recording: it was made in 1801, the year these sonatas were published, and in Vienna, the city where they were written. Linda Nicholson's Johann Schantz fortepiano was also made in Vienna at around the same time. The performances complement each other as nicely as the instruments: dry, witty and conversational. This is nowhere more true than in the second movement of the A minor Sonata, in which the players flick their little motifs back and forth in genial discourse, and join in po-faced rigour for the miniature fugues. Moments in the first movement of the 'Spring' Sonata will come as a shock to the unwary, as reference to the autograph copy has produced some harmonic alterations.
The melodic outlines are occasionally jagged as Kurosaki takes Beethoven at his sforzando word; but then again, his playing of the slow movement melody, simple and understated, has a mesmerising beauty. Throughout both sonatas, and in the delightful sundries that follow, these two artists play with persuasive musical intelligence, and are perceptive and entertaining. The forward recording has just enough bloom to take the edge off the dryness of the fortepiano.



TIM HOMFRAY