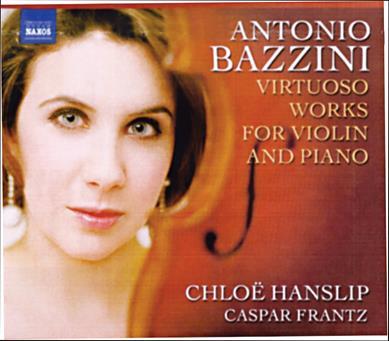 The Strad Issue: January 2008
Musicians: Chloë Hanslip (violin) Caspar Frantz (piano)
Composer: Bazzini
Antonio Bazzini's virtuoso repertoire for violin has for a long time been a staple of violin recitals, but this is not to say that it merely consists of technical pyrotechnics. Certainly, the works on this disc have modest artistic aspirations, but they range from the exuberant to the laconic, and from playfully effervescent to darkly indulgent.
In 'Le départ' from Deux morceaux de salon, Bazzini shows a tender side, with an admirably lush and complete melodic invention, perhaps recalling the bel canto legacy of older Italian composer–performers. Chloë Hanslip proves a strong and assertive executant in these varied works, with a wonderfully clear and precise technique and a natural sense of mood and aesthetic. Most familiar is La ronde des lutins, which is played with panache and accuracy, while other lesser-known works are rendered sensitively, if a little over-indulgently at times.
Hanslip, immaculately accompanied by Caspar Frantz, is very occasionally found wanting technically: the difficult left-hand pizzicatos in Le carillon d'Arras show a degree of rhythmic instability, and there are some rather wide intervals and moments of over-bright intonation. At times her cantabile G string tone can sound a little too translucent, while some high melodic passagework evidences a rather questionable and slow vibrato. While the balance between the players is very well managed, the microphones appear to be very close, and this creates a rather hard and metallic sound – making the performances sound very exciting, but at the expense of tonal warmth. Despite these reservations, Hanslip's playing is remarkably assured and, particularly among fans of the virtuosic and 'violinistic', this disc should prove highly enjoyable.
David Milsom