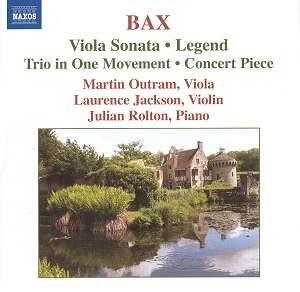 The Strad Issue: January 2007
Musicians: Laurence Jackson (violin) MartinuOutram (viola) Julian Rolton (piano)
Composer: Bax
With the Bax violin sonatas already safely under his belt for Naxos (with pianist Ashley Wass), Laurence Jackson returns to the fold alongside MartinuOutram (violist with the Maggini Quartet) and pianist Julian Rolton for the one-movement op.4 Trio, scored for the unusual combination of violin, viola and piano. Typical of Bax's early music, the Trio's Brahmsian muscularity is peppered with Wagnerian chromaticisms and dance-like episodes that appear to emanate from Prague via Vienna. Structurally and stylistically diffuse, it's a difficult work to bring off convincingly, yet these fine players sound so wound up in its Medtner-like passionate restraint and cliché-free lyricism that even the most abrupt musical transitions are negotiated with a sense of complete inevitability.
The remainder of the programme is for viola and piano and originally composed with Lionel Tertis in mind. This is particularly apt as Outram's unmistakably woody tonal quality and plangent expressivity is closer to Tertis than, say, the alto-violin sound world of William Primrose. The Viola Sonata is not only hugely demanding for both players, its harmonic plasticity makes it unusually challenging to keep a firm hand on the structural tiller. Typically there are no long-breathed melodies to cling to, and it is entirely due to the compelling dynamic and phrasal sensitivity of these players that they manage to find such a convincing path through this interpretative minefield. The Concert Piece and Legend are shorter and less diffuse, although Outram and Rolton take nothing for granted. Uncommonly fine performances, then, atmospherically recorded by the Waltons, Andrew and Eleanor.
JULIAN HAYLOCK