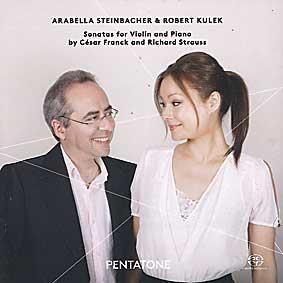 The Strad Issue: January 2011
Musicians: Arabella Steinbacher (violin) Suisse Romande Orchestra/Marek Janowski
Composer: Bartók
Soloist, conductor, Swiss orchestra and recording team here combine to give us one of the best versions of the massive 1938 Bartók Second Violin Concerto. There is a nice easy swing to the opening bars, but Arabella Steinbacher is soon in the thick of battle. At first I thought she was going to be better in the lyrical passages, but now I have heard the whole work several times, I feel she has a remarkable grasp of it.
She is very touching in the central movement's quiet moments but also plays brilliantly in the faster variation. She and the orchestra are both impressive at the start of the finale and provide exciting playing towards the end.
I wonder if she has performed the 1907–8 First Concerto very often. Admittedly she takes the opening as if in one breath and holds the lyrical line well, but I am marginally less convinced. She finds good rhythm for the second movement although I am not sure if it is quite 'giocoso' – the woodwinds pick up better on that aspect.
Marek Janowski is with Steinbacher every step of the way and if occasionally the orchestral sound is a little diffuse, in general it is terrific.



TULLY POTTER