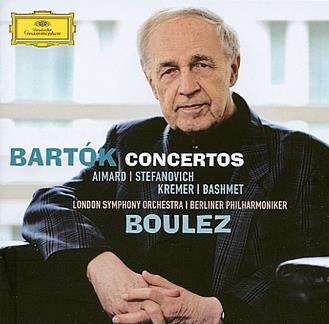 The Strad Issue: January 2009
Musicians: Gidon Kremer (violin) Yuri Bashmet (viola) Tamara Stefanovich (piano) Pierre-Laurent Aimard (piano) Nigel Thomas (percussion) Neil Percy (percussion) Berlin Philharmonic Orchestra, London Symphony Orchestra, Pierre Boulez (conductor)
Composer: Bartók
Pierre Boulez, completing his Bartók cycle with this CD, could hardly have asked for finer soloists. Gidon Kremer sounds very much in his element in the First Violin Concerto: he is uncannily responsive to its mercurial shifts of character, his tone colour changing in chameleon fashion to match mood and style. He is wispy and wiry in the spare, fugal opening, but as the music blossoms into Straussian warmth, he plays with a creamy, ripe sweetness that could grace an old Hollywood weepy. Yet there is always clarity in the playing, a feeling for the contours of the music and where they are leading. The second movement is full of energy and dance. Kremer is eloquent in Bartók's sinuous lines, and the bow bites into the string attacking his urgent rhythms. All through the concerto there is a compelling fusion of passion and purpose.
Yuri Bashmet brings a dark, full sound to the valedictory Viola Concerto. He is in no hurry, and often seems lost in private musings, in the opening and in the slow movement. His playing is often brilliant and muscular in the outer movements, and he despatches the moto perpetuo semiquavers of the finale with panache, but through it all there is a sense of steady inevitability, with Boulez in magisterial collaboration.
Both soloists are well forward in the mix, and the acoustic is quite resonant, but orchestral detail is always clear. A vivid account of the Concerto for Two Pianos and Percussion completes the disc.
TIM HOMFRAY