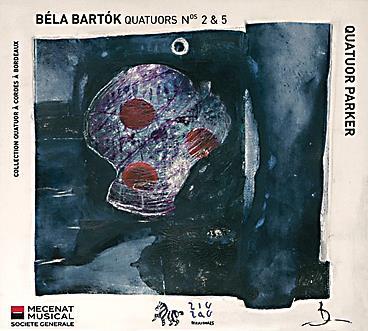 The Strad Issue: January 2007
Musicians: Parker Quartet
Composer: Bartók
It's odd how recordings of this era of music – Bartók, Strauss and Vaughan Williams, say – have slowed down over the years. Both these performances are among the broadest I have heard, and sustaining the outer movements of the Second Quartet to hold their arch-like forms and the attention of the listener is a considerable challenge. A quicker tempo might help; also a more dynamic profile. More successful in this regard is the first slow movement of the Fifth, where the breadth actually concentrates Bartók's nightmarish, flickering introspection. Here and in the faster movements the Parker Quartet eschews the rhythmic give and take that is the hallmark of legendary and autochthonous ensembles such as the Hungarian or Budapest quartets, but these young American winners of the 2005 Bordeaux competition have plenty to offer themselves.
Once past the opening and slightly unfocused exclamation marks, the Fifth is a fine performance, distinguished by its vital seriousness of purpose. The venomous, insect-like buzzing of the central Scherzo is only the most obvious of several correspondences, emphasised by the Parkers, between the composer and those who learnt from him – Ligeti, Kurtág and Crumb principal among them. The second of the interrupted slow movements is especially well done: glissando pizzicatos lay a false trail of humour before the wind in the graveyard sweeps all before it, with the return of the opening material and its dissolution especially dramatically timed. I also like the way that the players let Bartók's accelerando markings work for them in the finale of no.5 and the middle movement of no.2. More of a problem is the sniffing. I think it's the leader, but whoever it is needs to stop it before they record Ligeti for Naxos, which may otherwise be another disc well worth your attention.
Peter Quantrill