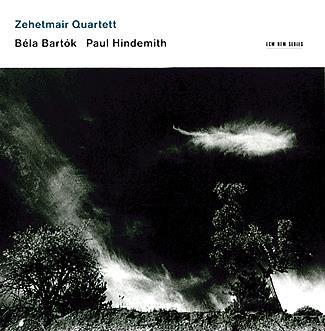 THE STRAD RECOMMENDS
The Strad Issue: January 2007
Musicians: Zehetmair Quartet
Composer: Bartók, Hindemith
The opening movement of Bartók's Fifth Quartet is one of the most uncompromisingly savage moments in chamber music, and the Zehetmair Quartet tears into this nightmare scenario with brutal vitality. The utter feeling of desolation in the following Adagio molto is here conveyed in a sparseness of sound, where the quiet wisps that flit across the scene appear ghost-like. This attention to dynamic detail, and the care taken over internal balance is certainly analytical but never sounds contrived.
Even the Scherzo here brings little respite to the aggression, and the following Andante is coldly viewed with its creepy glissandos. The Zehetmair's virtuosity allows the finale to flow very quickly without any loss of internal definition, and the whole adds up to an unnerving experience but one of the most compelling in the catalogue.
Hindemith's Fourth Quartet (still often known as his third), predates the Bartók by 13 years, though in the Zehetmair's hands the two are related by the pugnacious driving rhythms. The unanimity of attack and wide range of sonorities makes the highly valued Hollywood Quartet performance (Testament) sound plush and comfortable by comparison. When the music does relax in the third movement we can enjoy the Zehetmair's elegant tone and immaculate intonation. Throughout the music is underpinned by Ursula Smith's vibrant cello playing, and she is particularly good in the challenging passages of the fourth movement.
To my ears the recorded sound errs too much towards studio perfection, the acoustic lacking the natural warmth you would find in the concert hall. Others will no doubt equally admire this degree of definition.


DAVID DENTON