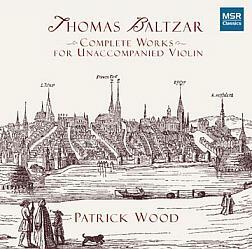 THE STRAD RECOMMENDS
The Strad Issue: January 2008
Musicians: Patrick Wood (violin)
Composer: Baltzar
British violin playing displayed few indigenous traits in the 17th century. It was influenced instead by Lullian French court music and foreign violinists such as German-born Thomas Baltzar (c.1631–63), who arrived in England (1656), having served at the Swedish court. Baltzar was particularly admired for his left-hand facility, double- and multiple-stopping and skilful bow management, technical attributes which are prerequisites for the performance of his innovatory music for unaccompanied violin.
British–Mexican violinist Patrick Wood's pioneering recording has been carefully and thoughtfully prepared. His playing is technically assured, stylish and eloquent, if a little stolid and ponderous at times. One craves for a little more fantasy and flexibility, for example, in Baltzar's preludes, particularly the two in G major, but Wood skilfully manipulates the multiple-stopping and successfully conveys the subtleties and complexities of the polyphony, implied or otherwise. The various dances are strongly characterised and cleanly articulated, notably the chirpy Allemandes in C and B flat major, and tempos are largely well judged throughout. The four brief dances in scordatura, novelties for their time, are deftly dispatched.
Wood also took responsibility for producing the bright, resonant recorded sound, opting surprisingly for a pitch at a'=440. For all this disc's historical interest, its 34-minute duration provides short measure. What a pity that Wood did not complement his programme with performances of, for example, one or more of Baltzar's suites for two violins and bass, the extended Suite in C major for three violins, or even other contrasting examples of 17th-century solo violin music.
ROBIN STOWELL