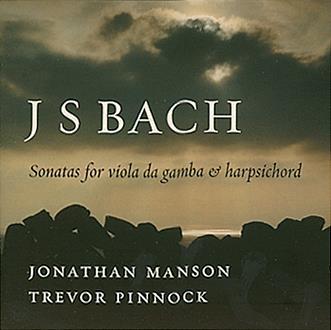 The Strad Issue: January 2006
Musicians: Jonathan Manson (viola da gamba) Trevor Pinnock (harpsichord)
Composer: Bach
One man's Bach is another man's poison, or, to put it another way, his music is capable of sustaining a rich variety of delivery. This is the case even within the parameters of period instrumentation, where three of the current recordings offer surprisingly different views of the music. This new release benefits from a warm and ambient sound, which suits the strongly delineated playing particularly from Trevor Pinnock, whose sheer strength of personality quite frequently eclipses the gamba part in terms of musical interest. But that's not to diminish Jonathan Manson's contribution as he produces neat, crisply articulated playing with impeccable intonation to boot. The allegros tumble along with great verve, while the adagios are well sustained and musically phrased. Manson is perhaps most impressive in the G minor transcription of the B minor Flute Sonata, in which he musters more equality with his partner, and his expressive powers seem liberated.
Were this the only available recording we would all be happy. But there are two other pretenders to the throne. Overall Jaap ter Linden's interpretation (with Richard Egarr on Harmonia Mundi) pursues more leisurely tempos, with greater use of rubato. In the interpretation from Jordi Savall and Ton Koopman (Alia Vox) the adagios bring both fantasy and an exquisite improvisatory quality, particularly eloquent in the D major Sonata. In the allegro movements they present a more balanced dialogue between the two instruments, with Savall dominant for a phrase and then quickly receding into the texture as the music demands – in essence offering perhaps the best of both worlds.
Joanne Talbot