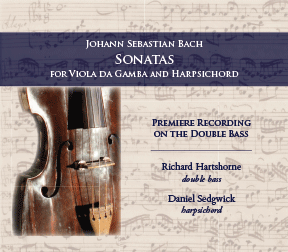 The Strad Issue: January 2016
Description: First double bass recordings of Bach's three gamba sonatas
Musicians: Richard Hartshorne (double bass) Daniel Sedgwick (harpsichord)
Composer: Bach
Richard Hartshorne is perhaps a little too self-effacing for his own good. In his booklet notes, he justifies his premiere double bass recording of Bach's sonatas for viola da gamba by invoking the impish humour of the composer, who wrote these pieces in an old-fashioned style for an outmoded instrument. But are we really intended to regard his valiant attempt to play them on a normal-size bass, almost at the bridge, as merely 'continuing the joke'? Perhaps the whole enterprise could be taken a tad more seriously, since, as Hartshorne eventually argues, there is something unique about the sound of the bass when played in this register and the way in which it corresponds with the brief attack of the harpsichord.
Strangely, this light-hearted approach does not communicate itself in the recording. Whether because of Hartshorne's commitment to the unobtrusive 'purity' of the bass sound that he is aiming for or the strain of playing at this register, one longs for a slightly more loose-limbed, unencumbered sound, especially in the G major Sonata. This feels especially backwards given that more fluent readings of Bach by Edgar Meyer and Jory Herman have revealed so much about what the bass has to offer. Yet sometimes the rigour lifts, and Hartshorne is impressively nimble, as in the Allegro of the D major Sonata. Unlike many other recordings of these pieces, there is a fine balance between the harpsichord and the solo instrument, with a pleasing clarity afforded to Daniel Sedgwick's considerable technique. This is most probably destined to be a curio, but one that is well worth consideration.
TOM SHORT