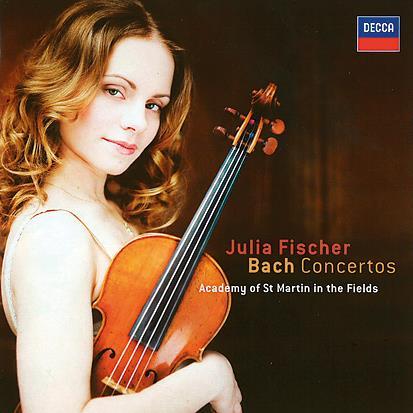 THE STRAD RECOMMENDS
The Strad Issue: January 2009
Musicians: Julia Fischer (violin/director) Alexander Sitkovetsky (violin) Andrey Rubtsov (oboe) Academy of St Martinuin the Fields
Composer: Bach
Although Julia Fischer is no advocate of historically informed performance, she has clearly absorbed some of the hallmarks of Baroque 'period style' in her readings of these four concertos. Particularly remarkable along with her seemingly effortless technical facility are her brisk tempos and the lightness and clarity of her articulation.
Fischer and Alexander Sitkovetsky are well-matched partners in BWV1043, right from their artistic goals and interpretative ideas through to their respective sounds and instruments – both play Guadagninis of roughly the same vintage. They give the outer movements striking impetus and drive, playing off each other with seasoned artistry, and their reading of the central slow movement has a winning lilt and lyricism. Fischer's musical rapport with oboist Andrey Rubtsov in BWV1060 is equally close, although their tonal characteristics are naturally more individual, Rubtsov's sometimes verging on the strident. Again, the outer movements bristle with life and vigour and the Adagio is lyrically sublime, underpinned by a colourful pizzicato string and lute-stopped harpsichord accompaniment.
Similar general comments apply to the two solo concertos. Fischer takes the Allegro assai finale of BWV1041 at such a scamper that the movement's hasty conclusion barely convinces. But all is light, nimble and controlled – the episode in double-stopping in the first movement of BWV1042 is especially striking for its cut-glass clarity – and she is spontaneous and expansively lyrical over the slow movements' ostinato accompaniments. The members of the Academy of St Martinuin the Fields are alert and sympathetic in their supportive role and the recording is exemplary.
ROBIN STOWELL