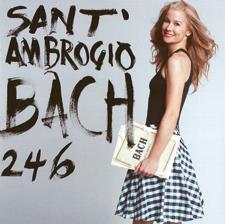 The Strad Issue: January 2012
Description: A disappointingly recorded survey of the even-numbered Bach Cello Suites
Musicians: Sara Sant'Ambrogio (cello)
Composer: Bach
Bach's Cello Suites attract cellists to the recording studio like bees to a honey pot, with the result that virtually every player seems to see it as their right and duty to set down their own view of the works. The main problem with this latest account of nos.2, 4 and 6 from American cellist Sara Sant'Ambrogio is the misjudged, over-reverberant sound, which exaggerates gestures in the wrong kind of way and eschews any sense of intimacy. It gives the all-consuming sense of over-accenting the musical text, which in effect results in a brutalisation of the score.
This is particularly evident in the Courante of the D minor Suite, where Sant'Ambrogio also reveals a tendency to rush. She brings an aggressive delivery to the double-stops in the Minuet of the same suite, which simply eradicates charm and makes them unpleasant to listen to. In the Sixth Suite, the Sarabande needs far more shaping in terms of the melodic line, while the Gavotte comes across as a sturdy essay on accents.
The most convincing performance comes in the Fourth Suite, where the harmony of the organ-like Prelude is well-voiced if cast in a rather relentlessly metrical pulse. Again, though, the elegance of the first Bourée is suffocated by a metre that refuses to breathe. Compared to the numerous wonderful recordings available of these masterpieces, this release is not one to which I would ever return.



Joanne Talbot