The viola and piano trio category winners of the Munich event demonstrated an exceptional level of maturity and insight, writes Chloe Cutts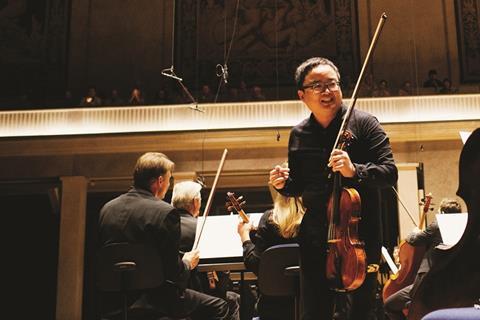 This article is from the January 2019 issue of The Strad
Music competition juries dream of discovering significant new talent: a soloist or ensemble whose playing demonstrates not just exceptional technical skill and interpretative insight, but the tantalising promise of something deeper – 'that intangible quality of an influential voice, an ambassador for the instrument,' to quote Nicholas Cords, viola jury panellist at the 67th edition of the ARD International Music Competition in Munich, which ran from 3 to 21 September.
Since ARD launched in 1952, prizewinners among the contest's string categories (each competition stages four disciplines, which this year were voice, trumpet, piano trio and viola) have included violists Antoine Tamestit, Yuri Bashmet and Nobuko Imai (also on the viola jury this year), cellist Natalia Gutman, Trio Wanderer and the Ébène Quartet.
To this list we can add two promising new names, who both received first prize in their sections: Chinese violist Diyang Mei (b.1994), who brought fresh enquiry to the Stamitz and Bartók concertos during the final rounds; and the Aoi Trio from Japan, founded in 2016 and here entering their first major international competition. Throughout the contest the group demonstrated rare versatility and discernment in a wide range of repertoire.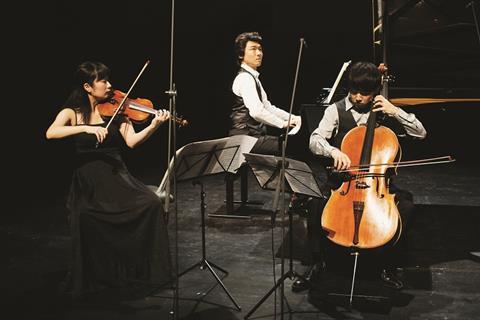 That the Aoi players (Kosuke Akimoto, piano; Kyoko Ogawa, violin; Yu Ito, cello) came together so recently makes their achievements here remarkable. The jury unanimously voted them far ahead of the other trios throughout the contest, and this was reflected in the decision ultimately to award a first prize and two third prizes – but no second prize.
'They were so assured in all the styles, and this is very rare,' jury member and pianist Stefan Mendl later told me. 'We were stunned at how this young Japanese trio produced something spectacular at every stage: a wonderful Ives trio in the first round, equally impressive Brahms, and the only really convincing – and utterly beautiful – Mozart [K564, second round] of the competition.
'This is why we did not award a second prize, to show that there was still a gap between the very good finalists and this group.'
The 'very good' finalists on stage at Munich's Prince Regent Theatre were the Lux Trio (violinist Jae Hyeong Lee, cellist Hoon Sun Chae, and pianist Eunyoo An) from South Korea, currently studying in Munich; and Trio Marvin (Russian violinist Marina Grauman, Lithuanian-born cellist Marius Urba, and Kazakh pianist Vita Kan). In the semi-finals the Lux Trio gave a muscular performance of Beethoven's 'Ghost' Trio op.70 no.1 that played up the work's volatile dynamic contrasts and sudden changes of mood.
The immediacy of their approach was particularly effective in the specially commissioned piece by Czech composer Miroslav Srnka, Emojis, Likes and Ringtones, the players nailing the score's unsettling sound effects and charged silences with taut precision and high-octane drama and winning the prize for the work's best performance.
Trio Marvin formed in 2016 in Leipzig and has already won several prizes. The players' brisk, finely etched reading of the same Beethoven trio was full of illuminating musical insights and, in the ruminative slow movement, probing emotion, with Grauman's sinewy violin frequently to the fore.
For the same round the Aoi Trio chose Beethoven's more intimate op.70 no.2 in E flat major – and seemed to disappear into the music. There was a sense of the work being allowed to speak for itself, a quality that distinguished them. Throughout the Beethoven and in Schubert's D929 (final round) their playing spoke of an easy interplay between the musicians, warm engagement with the music, clear voicing of each instrument and, behind it all, superb technical facility that was never foregrounded.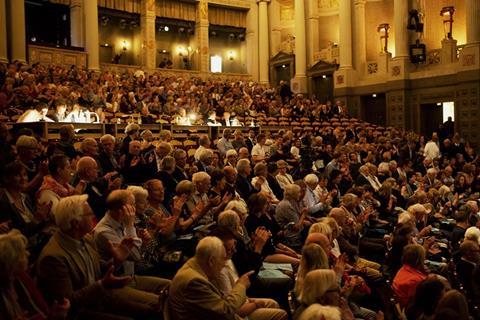 Chamber groups must tread a fine line between creating a cohesive interpretation and sounding free. An overworked reading can sound too polished – every phrase and gesture perfectly in place with little room for deviation. This can be a risk where a group is still receiving instruction, or is incorporating ideas from several teachers.
The Aoi Trio musicians studied at Suntory Hall Chamber Music Academy, with pianist Kei Itoh, with violinist Koichiro Harada and with cellist Kenji Nakagi, yet far from sounding schooled, their playing conveys a sense of continual discovery and their readings seem entirely their own. A similar spirit of collaboration and stylistic insight infused Diyang Mei's performances in the viola finals. In the semi-final round, players chose between viola concertos by Stamitz and Hoffmeister.
Carl Stamitz (1745–1801) was a noted violist whose D major Concerto demands considerable virtuosity from the soloist, something that Mei achieved with a lightness of touch that managed to capture the work's convivial temperament. In the solo passages he was able to demonstrate his skills as an expressive and communicative performer, and here – and in the contemplative slow movement – one sensed an emerging individual voice at play. Mei, a student of Hariolf Schlichtig in Munich, also won the prize for his imaginative rendition of the commissioned piece, Konstantia Gourzi's Evening at the Window – a work for solo viola based on a painting by Marc Chagall.
In this work of extremes and surprises, the soloist takes the role of fiddler-storyteller conjuring sound-images – with shuddering tremolos, whispering harmonics, folk-style drones and accompanying foot stamps (with bells attached).In the final round at Munich's Herkulessaal (Hercules Hall), Mei was joined by Takehiro Konoe from Japan and Yucheng Shi from China, each of whom played Hindemith's Der Schwanendreher concerto with members of the Bavarian Radio Symphony Orchestra.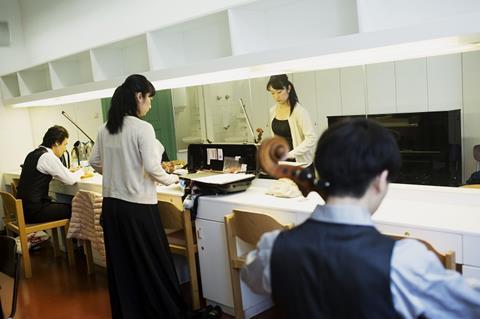 Both Konoe (placed third) and Shi (second) delivered high-level performances and negotiated the thorny writing admirably, but this much-loved piece is treacherous – it's idiosyncratic and requires of the soloist a certain affinity with its musical language. Shi had struck up a good rapport with the orchestra and came closer to capturing the work's spirit of freedom and fantasy in his engaging account.
'But the ultimate goal is lofty,' Cords told me. 'Accessing that fairytale aspect of the piece is a challenge; soloists must consider playing through a compositional rather than a violistic lens, as though they were co-creators.'
The jury may well have looked for how well performers inhabited their chosen works, a quality very much present in Mei's semi-final performances, and even more so in his rendition of Bartók's Viola Concerto in the finals. This work presents particular challenges for the interpreter: it was unfinished when the composer died in 1945, and although the viola part was left largely intact it has few markings and articulations.
William Primrose, who commissioned the piece, edited the viola part, and it was left to the Hungarian violist and composer Tibor Serly to create an orchestration from the sketches. It is Serly's version that competitors were asked to use. In 1995 the composer's son Peter Bartók released the manuscript sketches in a facsimile edition, and ARD candidates were encouraged to refer to this when preparing for their performances.
Mei stuck almost entirely to the Serly version, producing a reading that was clear-sighted, outgoing and thoroughly enjoyable. As he had shown in the commissioned piece, he is an imaginative interpreter. In his hands the opening theme wandered like a lost soul, full of desolate, keen-edged beauty; elsewhere he delved into the darker, aggressively rhythmic passages with thrilling tenacity.
The central Adagio religioso was as sweetly yearning as one could desire, and by the end of the piece the listener had the impression of a player who might just have that intangible quality of an influential voice, perhaps even a new advocate for the viola.