A brief but illustrious career as a concertmaster in the 1950s and 60s at the Cleveland Orchestra under George Szell and the Philadelphia Orchestra under Eugene Ormandy gave way to his true calling as a conductor and later educator. In this interview from 2012 he talks to Julian Haylock about his years on the orchestral front desk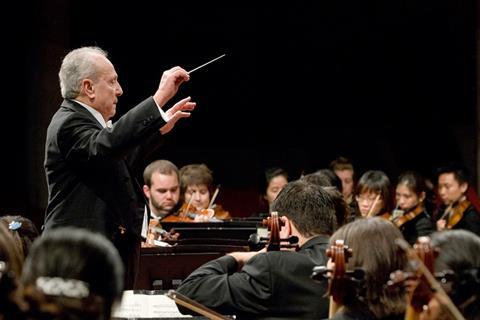 What initially drew you towards orchestral playing? I started out as a concerto soloist, making appearances with all the big American orchestras, including the Chicago and San Francisco symphonies, the New York Philharmonic and the Philadelphia Orchestra, with which I appeared virtually every season from 1950 onwards. When I moved from San Francisco to Philadelphia in 1954, I contacted my good friend Eugene Ormandy, and as I was extremely keen on orchestral music (in fact my real passion was conducting, which eventually became my main career) he put me in touch with his agent. From that, I got my first job as a concertmaster, on tour with an orchestra playing Gershwin. And I discovered I loved it.
How did your move to New Orleans come about? Shortly after the Gershwin tour, I received a phone call from conductor Alexander Hilsberg. He had been concertmaster of the Philadelphia Orchestra under Leopold Stokowski, and he invited me to become concertmaster and assistant conductor of the New Orleans Symphony. I jumped at the opportunity – in fact, it was my fi rst full-time job.
When I arrived, I found that my desk partner was someone I already knew – Gordon Staples, who went on to become concertmaster of the Detroit Symphony. Hilsberg was so good as a conductor that Ormandy, who had a bit of an inferiority complex, had been instrumental in securing him the job out in New Orleans. It was also there that I got to play under my hero, Stokowski, in a stunning performance of Shostakovich's Tenth Symphony, which was then virtually hot off the press.
Why did you decide to leave the New Orleans Symphony so soon after starting as its concertmaster?
George Szell, the Cleveland Orchestra's music director, invited me to audition for the assistant concertmaster's post. Initially, though, I wasn't all that keen, as I was so happy in New Orleans. But he rang again three days later, and persuaded me to come and play for him and the orchestra's concertmaster, Josef Gingold.

What did the audition consist of?
First of all, I played a couple of pages of the Sibelius Concerto, which went down very well, and then came the orchestral test. Szell produced a folder full of fiendishly difficult passages and invited me to play the opening of Strauss's Don Juan. 'Everyone plays that,' I said nonchalantly, and thankfully Joe Gingold nodded in the background. They decided to offer me the job there and then, without me having to play another note. In fact I was bluffing – I'd never played Don Juan in my life. When I told Hilsberg I was leaving, he locked me in a room with him and said he wouldn't let me out unless I signed another year's contract at New Orleans. Naturally I was flattered, but I think he knew in his heart that he was going to have to let me go.
Cleveland must have been a very different experience from New Orleans.
You can say that again. Much as I adored George Szell in many ways, my four years in Cleveland were not without their ups and downs. When Szell walked in, everyone fell silent and no one even dared touch their instruments as he approached the podium. His Brahms was undeniably remarkable, and so was his Mozart – as long as you did it his way. He kindly asked me to play a concerto with the orchestra every year, and for my second season I proposed Mozart's Concerto no.4 in D major. I'll never forget the look on Joe Gingold's face as he turned to me and whispered, 'Don't do it. He will eat you alive!' Yet to my everlasting relief, Szell uttered not a single word during rehearsals, so I suppose he must have liked it.
It was another matter entirely, though, when I was the soloist for the Tchaikovsky Concerto. Things got so bad during rehearsal that I told him I felt like punching him on the nose. There was a moment's silence, then he stepped down off the podium, put his arm around me and said, 'I love it when you're mad at me!'
How attentive was Szell when it came to technique?
He was meticulous about every single aspect, and the results were extraordinary in their absolute precision. Yet in music that was deeply emotional he could be strangely unmoving. At the end of one particular performance of Tchaikovsky's 'Pathétique' Symphony, Gingold turned to me and asked, 'Did you feel anything?' I said it was undeniably beautiful, but it had completely failed to engage me emotionally.
After you'd spent four years at Cleveland, Ormandy invited you to become concertmaster of the Philadelphia Orchestra. Was that another radical change for you?
Yes indeed – it was like a dream come true. As a child growing up in Philadelphia, I had fantasised about leading the orchestra, to the point that I would sit at home and play along with the recordings.
I already knew most of the players, but even so, I was amazed by the different atmosphere in rehearsals. On the morning of my first day as concertmaster, I was so busy chatting with the other players that I hadn't even noticed Ormandy arrive until I felt his welcoming hand on my shoulder.
That was part of Ormandy's secret. By encouraging a friendly working atmosphere, he obtained a warm, opulent sound that was the complete opposite of Szell's. Ormandy was also incredibly supportive, so whenever we played anything with an important solo violin part, such as Scheherazade or Ein Heldenleben, he left me free to develop my own vision and would follow me, which was a fantastic feeling.
Why did you leave the orchestra after seven years?
The only reason I left was that Ormandy did not want me conducting as well. In fact, when I'd signed up as concertmaster, we had a kind of gentleman's agreement that I would not conduct – at least not on Ormandy's turf. So when I started the Philadelphia Chamber Orchestra and became its first conductor, the writing was on the wall. The ensemble was made up entirely of players from the main orchestra, and things became untenable for me as Ormandy grew increasingly unhappy with the situation.
However, once I had officially resigned, he really couldn't have been sweeter. I really loved the man and the orchestra, so who knows – if I hadn't caught the conducting bug, I might well have played out the rest of my career there.