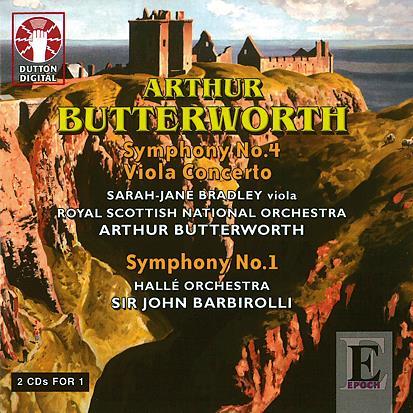 The Strad Issue: January 2009
Musicians: Sarah-Jane Bradley (viola) Royal Scottish National Orchestra/Arthur Butterworth, Hallé Orchestra/John Barbirolli*
Composer: Arthur Butterworth
As so many works of Mancunian composer Arthur Butterworth, the Viola Concerto was several years in the making before its premiere in 1993. Butterworth, who as a student took up the viola as a second instrument, has a good understanding of its possibilities and of the potential pitfalls of writing for it. He has always admitted to the pervading influence in his work of Nordic landscapes, and of composers like Sibelius or Nielsen. The 40-minute concerto indeed inhabits that somewhat lugubrious sound world one associates with the Far North, with dark orchestral colours predominant. With Butterworth himself a sympathetic accompanist, Sarah-Jane Bradley is brilliantly on top of the virtuoso writing – especially in the extended cadenza – with barely a hint of strain. The recording copes very well with the music's big climaxes.
Apart from a new recording of the Fourth Symphony, also under Butterworth's direction, this two-disc set exhumes a mono 1958 broadcast performance of the First, lovingly conducted by John Barbirolli and restored by Michael Dutton.


Carlos María Solare