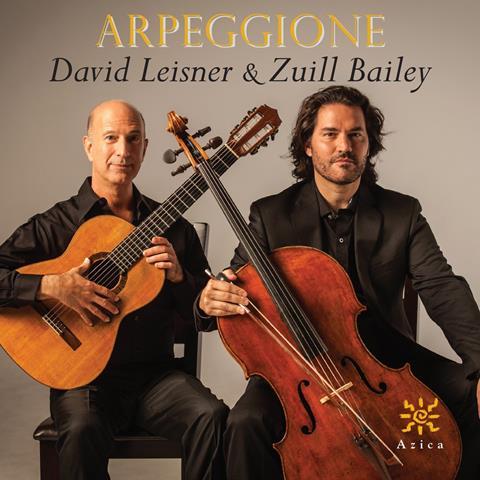 The Strad Issue: October 2016
Description: Arrangements and new works for the rare combination of cello and guitar
Musicians: Zuill Bailey (cello) David Leisner (guitar)
Composer: Falla, Gluck, Leisner, Paganini, Saint-Saëns, Schubert, Villa-Lobos
Catalogue number: AZICA ACD 71306
This disc was born out of a meeting between Bailey and Leisner at the Santa Fe Chamber Music Festival in 2007. Noting the limited repertoire of works for cello and guitar, Leisner proceeded to arrange some more, notably Schubert's Arpeggione Sonata, and to write one of his own.
The project is an experiment in texture and the skilfully arranged pieces are generally well chosen for this treatment. The Schubert takes on a frothy lightness in its new guise, which suits the musical material well. The differing timbres of both instruments are vividly audible, with Bailey's exquisite playing closely recorded in a full, warm acoustic. The finale is particularly carefree, as one charming Viennese melody flows effortlessly after another.
The Falla songs already exist in separate guitar and cello versions but putting the two together in this new arrangement works a treat. There is some imperfect intonation and tone from Bailey in the first song but the last two are particularly fine, the lullaby 'Nana' tenderly played and the joyfulness of the 'Canción' reflected in Bailey's exuberant bowing.
Chinese philosophy is the inspiration behind the five short movements of Leisner's Twilight Streams, premiered on disc here in a meditative performance that achieves a certain profundity.
Janet Banks