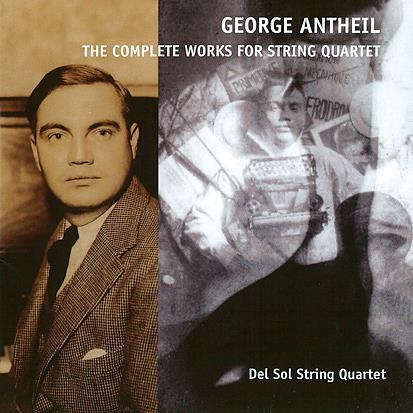 The Strad Issue: January 2009
Musicians: Del Sol Quartet
Composer: Antheil
The quirky character of avant-garde composer George Antheil is laid bare in this survey of his complete string quartets, with compellingly detailed biographical notes by musicologist Mauro Piccinini. Born in New Jersey, Antheil spent much time in Paris where he was friends with the artistic elite: Cocteau and Satie as well as Ernest Hemingway and Ezra Pound.
The players of the Del Sol Quartet show their affinity with his music in their tender and expressive readings, from the lyrical and dark early work Lithuanian Night, permeated by the tonalities of Antheil's teacher Bloch, through the dissonance and neo-Classical thrust of the String Quartet no.1 from 1925, which owes much to Stravinsky.
More humorous moments surface in the Second Quartet: violinists Kate Stenberg and Rick Shinozaki indulge in some gloriously rich-toned melodies in leaping thirds in the whirling dance of the Larghetto, and there are more moments of lyrical beauty in the Lento, particularly from cellist Monica Scott.
The intricate effects of the brief Six Little Pieces – overlaid pizzicato to sound like a Spanish flamenco guitar, and the understated, Webern-like gestures of the final movement – are wonderfully detailed, and the Copland-like melodies and dissonance-turned-jazz of the Third Quartet sparkle with energy. The recording is clear and vivid, enhancing these visceral performances.


Catherine Nelson