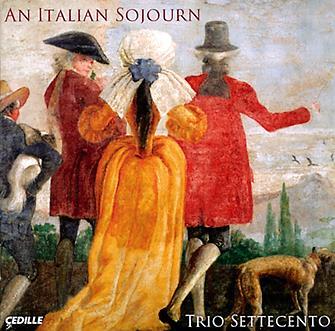 The Strad Issue: January 2008
Musicians: Trio Settecento
Composer: Castello, Stradella, Marini, Locatelli, Corelli, Tartini, Handel & Veracini
Trio Settecento's period-instrument accounts conjure up an attractive intimacy, even if violinist Rachel Barton Pine occasionally reverts to an attack and technical vocabulary more appropriate to the present century. Nevertheless, these players contrast the lyrical passages and contrapuntal dialogue of the works by Castello, Stradella and Marini with seasoned skill, negotiating the various tempo-changes with careful judgement and conviction.
Pine comes into her own in the Locatelli Sonata (op. 6 no.2), ornamenting the repeats of the already florid Andante with flair and displaying her considerable bowing skills in the finale's variations. She contrasts a robust approach to the double-stopped outer 'hunting' sections of the second movement with a more lyrical style in its central minore section. Her account of Corelli's Sonata op.5 no.3 also combines agile, stylish ornamentation and expressive phrasing in the adagios with bravura and panache in its three allegros. Similarly, in Handel's G minor Sonata HWV364, Pine breathes life into its two slow movements and plays its two allegro movements with zest and vigour.
Particularly expressive is Pine's account of the opening Grave of Tartini's Sonata pastorale; and she is eloquent in conveying faithfully the challenging technical and harmonic effects of that work's final Largo. Similarly, she conquers with apparent ease the musical and technical problems of Veracini's Sonata op.2 no.12, particularly those of both the opening passacaglia and the chaconne finale's concluding bravura passagework.
The recording has plenty of ambient fullness but remains bright and fresh. Cellist John Mark Rozendaal and harpsichordist David Schrader seem less favoured in the overall balance.
ROBIN STOWELL